Woodenbridge Hotel and Lodge
Woodenbridge Hotel and Lodge, Vale of Avoca, Arklow, Co. Wicklow
Phone: +353 (0402) 35146
Mobile:
Fax: +353 (0402) 35573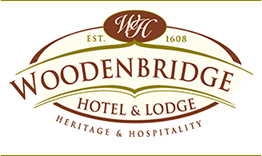 At Woodenbridge Hotel and Lodge we believe we offer something different than the brand new hotels that have sprung up throughout the country.   What we promise you is a genuine, unique and personal touch, set in a wonderful traditional hotel full of character and an atmosphere second to none. To help you plan your big day we have designed a series of wedding packages.   If you have something else in mind, that is no problem we will sit down with you and design a package to suit your requirements.   We also cater for civil weddings, and will provide you with a complimentary room, set with chair covers and flowers for the ceremony.
Esther – Our Wedding Planner
Organising a wedding can be a lot of work, so here at Woodenbridge Hotel, we like to remove as much of the hassle as possible.   Esther O'Brien has 20 years experience organising weddings.   Esther can advise you on the best option for your wedding and take you through the packages available.
Esther can be contacted at by email at   [email protected] or on by phone on +353 (0402) 35146.
Wedding Packages
Our packages start from €29 per person and are listed below.   To download our wedding brochure and menus, please click on the links below.
Contact This Supplier
Areas Served By This Supplier
Woodenbridge Hotel and Lodge serves:
Wicklow