Vanity Fair
Vanity Fair, Unit 3, Courtyard Shopping Center, Main Street, Newbridge, co Kildare
Phone: (045)431905
Mobile:
Fax: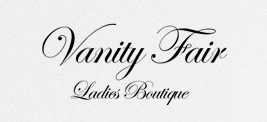 Established in 1981, Vanity Fair is one of Ireland's leading boutiques for mother of the bride dresses and outfits and also designer wear for all occasions. New to Vanity Fair are classic labels such as Max Mara, Luisa Spagnoli and D.Exterior. We are also the only shop in the country to carry a line of ready to wear dresses from Dublin designer Richard Lewis. Come and visit our boutique in Newbridge, you're sure to find something to add to your wardrobe for the upcoming season. Open 10am to 5pm Mon to Sat with late opening on a Thursday until 7pm.
We specialise in stunning mother of the bride outfits, and of course – mother of the groom too, plus we carry a range of bridal shoes and accessories. As mother of the bride you want to look and feel fabulous as you stand with your daughter on her special day, so we've carefully selected incredible mother of the bride outfits from the world's leading designers.
Browse through our collection now and you'll find mother of the bride outfits from John Charles, Condici, Teresa Ripoll and other top designers – offering unmatched elegance that will certainly turn heads. As one of the main hosts of the day, the mother of the bride is a focal point for guests on both sides of the newly extended family, and we're confident you'll find the perfect mother of the bride dresses at Vanity Fair.
Whether you're a wedding guest or you're heading to the races, or choosing a mother of the bride outfit, we aim to make your experience at Vanity Fair one that you'll be really pleased with. Our staff will talk you through the stock, offering advice and guidance for any of our mother of the bride dresses and finding you an outfit to flatter your shape and style.
Standing alongside your son or daughter on their big day, you're certain to feel like a million dollars and you'll look like it too with mother of the bride outfits from Vanity Fair.
We'd love to see you, so click through our gallery for inspiration and then please drop by and spend some time trying on our wide selection of mother of the bride dresses and outfits, designer wear, or if you just fancy a new dress for a night out!
Open 10am to 5pm Mon to Sat with late opening on Thurs until 7pm