Tullamore Court Hotel
Tullamore Court Hotel, Tullamore, Co. Offaly
Phone: 057 934 6666
Mobile:
Fax: 057 934 6677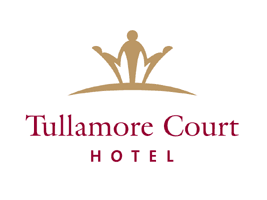 Click Here to view details of our Wedding showcase on November 6th 2-6pm!
The Tullamore Court Hotel has been hosting weddings for many years and our staff are 100% committed to the individual needs of each bride and groom that grace us with their wedding celebration.To follow are just some of the  reasons why we can deliver the most exceptional dream day for you!
*We promise only one wedding per day and with only one wedding, our focus is you, after all it's your day.
*Banqueting Manager Martin Tempany is renowned for his unwavering commitment to making your day special. But don't just take our word for it please log on to
www.tullamorecourthotel.ie/wedding-testimonials
for a selection of comments from couples who have celebrated their wedding at the Tullamore Court Hotel.
*Your banqueting suite has been completely redecorated giving it a fabulous, rich luxurious feel, adding to the ambience of your special day.
*Wall to wall glass allows natural daylight to fill your banqueting suite, creating a wonderfully inviting and natural setting for your wedding celebration.
*You can enjoy exclusive use of beautifully mature and manicured gardens at Hollow House just 10 minutes drive from the hotel, for those once in a life time photographs.
*Wedding Packages start from €38.50 per person on Weekends or €34.65 Midweek.
Your comprehensive wedding package includes such elements as:
*Champagne for you and your Bridal Party on arrival to put some immediate sparkle into your celebrations.
*Mouth watering canapes for you and your guests for your arrival reception.
*Seasonal fruit punch and tea /coffee reception for all your guests.
*Elegant white chair covers with a choice of gold or plum sashes to give a perfect finish to your banqueting suite.
*Stunning floral arrangements for each table.
*Our resident musician to entertain you and your guests during dinner, adding to the overall convivial ambience.
*Stunning bridal suite with complimentary Champagne and chocolate coated strawberries to toast a perfect ending to a perfect day.
*Two complimentary rooms for guests of your choice.
*Complimentary on-site car parking.
*Six months membership in our award winning leisure centre or a six week pre marriage tone up for the Bridal Party.
For any further information you might need or to chat with one of our Wedding Co-ordinations please call Catherine or Donna on 057 934 6666 or email [email protected]
The following is a brief selection of comments from some couples who celebrated their wedding at the Tullamore Court Hotel.
Enjoyable Occasion For All
We were very pleased in every respect with the hotel service. Everything was provided exactly as we had requested. We found the hotel staff helpful, friendly and competent. It was a most enjoyable occasion for all of us and the service and general atmosphere of the hotel contributed significantly and we thank you. Very grateful for all of this.
Mr. and Mrs. Sean Mc Carthy – June 25th 2011
Exceptional Staff
We would just like to say that everybody who looked after us were exceptional. That's everybody from reception, managers, catering staff, waiting staff, bar staff and though we never met them, the chefs were excellent – the food they prepared was beautiful- excellently cooked with good quality food. All the staff was friendly and more than willing to help and engage in conversation. Maria and I went for a meal in the restaurant over a year before the wedding and that's kind of what made us think about booking the hotel for the reception. Quite simply the food will not be beaten. I had a friend from Switzerland who was very impressed with the hotel and if he comes to visit Ireland he will stay in the Tullamore Court Hotel. I also had two French friends at the reception, one of whom is an IT manager who travels globally about once a month for corporate reasons and he told me that the pool and room were very impressive and was very impressed by the warm atmosphere. All in all I could not speak highly enough of your hotel. The hotel appearance, atmosphere, recreational facilities, rooms etc are excellent, but the food and the staff are really what everyone has been talking about. We will see you in there soon.
Maria Mahon and Colm Corcoran – June 17th 2011
Spot On!
There were no problems; Philip and Martin were very nice. The check in and confirmation of requirements beforehand were spot on. Donna and Michelle were both very good and very understanding. The staff's behaviour and efficiency were all very good. The service of dinner was very fast and hot. The choice in menus and wine was very good. Everybody loved the day. Looking forward to staying in the hotel in the future.
Michelle McNamee and Gerard Whelan – January 1st 2011
Contact This Supplier
Areas Served By This Supplier
Tullamore Court Hotel serves:
Offaly