The Station House Hotel
The Station House Hotel, Kilmessan, Co. Meath
Phone: 046 9025239
Mobile:
Fax: 046 9025588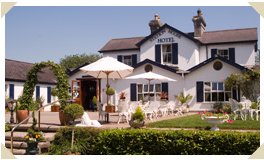 The Station House Hotel is set on twelve areas of beautifully manicured lawns in the quiet village of Kilmessan, County Meath. An independently Irish owned and family run hotel since 1984 our hotel has been a first class destination for guests for over twenty eight years. With a reputation for weddings that is unsurpassed, the hotel, with its open fires and country charms, benefits from a luxurious and romantic setting that cannot fail to impress.
The charm of the hotel lies in the fact that it has been lovingly restored from a converted railway junction. Having benefited from the additional refurbishment, the hotel has managed to keep the magic and charm of its former identity, but with a warmth and service puts it in a class of its own.
The Station House Hotel is proud to be considered one of the most sought after wedding venues in the country. Testimony to this would be our winning of the Wedding Venue of the Year Award (Leinster). This is a huge achievement for us, and as much of the deliberation was based on nominations from our previous couples who had their "big day" with us we feel that this speaks volumes. Our other award winning status achievements include:
·                 2010 & 2011 Irish Restaurants Award Winner of the "Best Chef in Meath" Award
·                 Tripadvisor Certificate of Excellence 2011 honouring top rated accommodation businesses, restaurants and attractions, as reviewed by travellers on the World's largest travel site
·                 Recommendations by Georgina Campbell since 2001 (recommended as one of the top 10 places to dine for Sunday Lunch
·                 Restaurants Association or Ireland
·                 Recommended by the Michelin Guidebook since 2006
·                 AA Triple Rosette
·                 Best Places to Dine and Stay in Ireland
·                 Lucinda O Sullivan
·                 Best Restaurants Award
·                 Small Luxury Hotels
For our wedding couples we thrive to offer a fantastic service that is second to none at a price that cannot be beaten. We are delighted to offer our couples with our compliments the following:
-               Your own dedicated Wedding Co-ordinator, Sarah Kelly
-               Lantern lit red carpet welcome.
-               Champagne reception on arrival for bridal party
-               Full table dressing including three armed candelabra with candles and
mirrored place setting.
-               One wedding per day offering a touch of exclusivity.
-               All dietary requirements catered for with no additional cost.
-               Champagne reception for bridal party on arrival at the hotel.
-               Freshly brewed tea, coffee and homemade scones reception for guests on arrival.
-               Table Plan on request.
-               Fresh floral table arrangements & crystalised candelabras
-               Personalised table menus.
-               Choice of cake stands and cake knife provided on request.
-               Changing room provided on request.
-               Overnight accommodation in the exclusive Signal Suite.
-               Discounted accommodation for guests attending the wedding.
-               Discounted Chauffeur driven Silver Spurs Rolls Royce or Mercedes Benz
-               On site secure parking.
-               Courtesy transport in our luxury 9 seater bus to bring guests to and from local B&BS (on request)
-               Prior menu sampling evening
-               Dinner in the Award Winning Signal Restaurant, on your 1st year anniversary
We offer civil ceremonies and blessings both indoors in our beautiful Carriage Suite or set in our fabulous landscaped gardens or original stone turntable. As the guests await your arrival they can enjoy the tranquil surroundings of our gardens, listen to the birds singing, breathe in the aroma of the floral displays and feel the rays on sun meandering through the landscape. For the indoor setting walk the luxurious red carpet descending from out station platform which leads to our stone cut Carriage Suite nestled within the surroundings of our gardens.
Winter Packages (November- March) start from as little as €35.95 per person and Summer Packages from €49.95 per person.
We have recently introduced our amazing "ALL INCLUSIVE WEDDING PACKAGE" based on 100 adults from €6295. Included in this fantastic offer is:
·                 A 5 course meal
·                 Arrival Reception
·                 Wine with Meal
·                 Evening Finger Food
·                 Venue Decoration
·                 Bar Extension
·                 Chair Covers
·                 Wedding Car
·                 Photographer
·                 Live Entertainment
·                 Flowers
·                 Wedding Cake
Contact us directly for further information on all our exciting packages.