Randles Hotel
Randles Hotel, Muckross Road, Killarney, Co. Kerry
Phone: (0)64 66 35333
Mobile:
Fax: +353 (0) 64 66 39301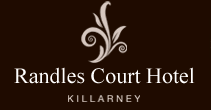 At The Randles Court Wedding Hotel Killarney we assure you of our personal attention to detail throughout any celebration. We can offer a variety of options for you, your guests and family before and after the big day.
Perhaps you may like an intimate get together over dinner in Checkers restaurant or a day after BBQ on our Terrace overlooking Killarney's lakes and mountains or a relaxed lunch in our Conservatory. As each event is different so too will be your needs and we would be delighted to discuss any individual requirements you may have.
This romantic Manor House hotel in Killarney has lent itself to numerous small and intimate wedding receptions in Kerry and is favoured by several leading wedding planners. If you require that little bit more, rest assured of the personal & best attention from the staff of the Randles Court Hotel Killarney at all times. Our garden patio with Mountain Views is available for outside drinks receptions and photographs.
Fabulous New Winter Wedding offer. All-inclusive package for just €57 per person. Valid for January, February & March 2016 for a minimum of 60 guests. Full details available on our website wedding page – http://www.randleshotel.com/wedding-hotel-killarney.html
The Randles Court Killarney Wedding Hotel is also registered to hold civil ceremonies. Perfect for weddings from 20 people up to 140 people, Tom Randles personally oversees all weddings from start to finish. Please contact him directly for any further information on [email protected].