The Great Northern Hotel
The Great Northern Hotel, Bundoran, Co. Donegal, Ireland
Phone: 00353 (0)71 984 1204
Mobile:
Fax: 00353 (0)71 9841114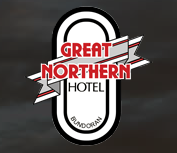 The Great Northern Hotel, Bundoran, Co Donegal is a 4 star hotel ideally located in the center of a championship 18-hole golf course overlooking the Atlantic Ocean, which adds to the ambience and character of the hotel. As a wedding venue, The Great Northern Hotel
is the perfect setting for memorable wedding photos, with a variety of setttings to choose from.
Your wedding day is not only a special day. It is one of the most important days of your life. The management and staff of the Hotel Great Northern realize this and leave no stone unturned in providing a magical wedding.
We are delighted to offer a selection of menus and our Executive Chef will be happy to tailor a menu to your specific needs.
Thank you for considering the Great Northern Hotel as a venue for your special day.
I take this opportunity to congratulate you both.
Regards
Karen Mc Eniff
[email protected]
Contact This Supplier
Areas Served By This Supplier
The Great Northern Hotel serves:
Donegal