Temple Gate Hotel
Temple Gate Hotel, The Square, Ennis, Co. Clare, Ireland
Phone: + 353 65 682 3300
Mobile:
Fax: + 353 65 682 3322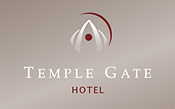 The Great Hall in the Temple Gate Hotel Ennis is undoubtedly one of the most unique wedding venues in this region. Built in 1886 and carefully renovated in 1996, this newly refurbished Great Hall, with its magical ambience, provides the perfect setting for such a special and memorable occasion as your wedding day.
Our Ennis Hotel offers a unique combination of historical beauty and exceptional service standards. The gothic style has been painstakingly retained throughout this hotel in Ennis Clare. The history is most evident in the Great Hall Banqueting facility where awe-inspiring stained glass windows transform natural light into a rainbow of colour. Vaulted ceilings, oak beams and hand painted batiks create the most unique wedding venue in the region.
Your guests may not remember what song you danced your first dance to, but they will remember their wedding reception meal. Our reputation for excellence is evident in our list of awards and accolades. We have been awarded AA Rosettes since the hotel opened in 1996,3 Toque Awards and expressions of delight and gratitude from past couples for the quality of food and the imaginative way it was presented.
Our professional team look forward to welcoming your guests on your special day and will ensure it is a memorable occasion. We only host one wedding each day, so your special day will have our full attention.
Please use our Wedding Enquiry form to contact us for further information regarding our property, facilities, wedding packages and sample menus. Alternatively email us at [email protected].
Civil Wedding Venues Ennis
Temple Gate Hotel Ennis has catered for a number of Civil Partnerships over the recent number of years.
Our Ennis hotel is a perfect and most stylish venue for civil ceremonies. This hotel in Ennis rests on the site of a 19th century convent of mercy with a fascinating history. The history of the Temple Gate Hotel, one of the leading hotels in Ennis, is most evident in the Great Hall where awe inspiring stained glass windows transform natural light into a rainbow of colours. Vaulted ceilings and oak beams combine to create the most unique venue in this region for Civil Ceremonies.!
In order to hold a Civil Wedding, the wedding couple must first apply for approval to the Health Services Executive Civil Registration Office. Each couple must apply directly as the hotel cannot apply on their behalf. For further details please contact Civil Registration Office, St. Camillus' Office, Shelbourne Road, Limerick, telephone 061 48376.
Alternatively if the Civil Registration Office cannot accommodate you on the date of your choice, we have a unique opportunity that will allow you have your Civil Ceremony on the date of your choice. Please contact us and we will be delighted to discuss this option with you.
Contact This Supplier
Areas Served By This Supplier
Temple Gate Hotel serves:
Clare