Sonya Grimes – Wedding Ceremony and Pre Dinner Drinks Reception Music
Sonya Grimes – Wedding Ceremony and Pre Dinner Drinks Reception Music, Dublin
Phone: 01-8208491
Mobile: 087-2287873
Fax: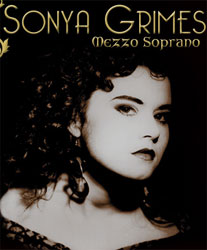 Congratulations to you both on your forthcoming wedding.
I am an accomplished professional singer with 15 years classical training and 25 years experience as a church soloist and a lead vocalist. I've travelled extensively performing not only classical but also popular & Irish music, swing, jazz and blues. I've specialised in wedding music for 20 years now and perform during both the Ceremony & Drinks Reception.
Music for Ceremony
- I use my versatility to create beautiful & atmospheric music which is moving and distinctive.
– My repertoire is extensive, over 100 (Hymns, Arias, Celtic Airs, Love songs & themes)
– I can arrange the most talented musicians for you or I can provide my own accompaniment.
– I use my fantastic bose sound system ensuring the highest sound quality in all venues.
– My aim is to firstly, make your arrangements effortless and enjoyable and then through music, to give you a lasting and beautiful memory of your day.
Music for Pre Dinner Drinks Reception
- Let me create the perfect atmosphere by performing enjoyable, classic and nostalgic easy listening music for your guests, as they chat easily while listening to their favourite songs.
– Tailor your own music by choosing from my vast repertoire of popular, Irish, sixties, motown, swing, jazz and blues.
– I'm accompanied by a musician or my own backing music pre recorded by talented pianists and jazz musicians.
__________________________________________________
Please contact me by phone or email. I'd be delighted to create a special and memorable occasion.
To listen to my music log on to: www.sonyagrimes.com
Phone; 087 2287873 or 01 8208491
__________________________________________________
Personal Testimonials I received by email 2008 – 2010
Hi Sonya,
Sorry it has taken me so long to get round to sending this!
I just wanted to say a huge thank you for all the effort you put into arranging so much for me prior to the wedding. Being a little out of touch with what was appropriate, I will be eternally grateful for all your advice and suggestions and constant assistance. It made my day to have the harpists there and your recommendation was just perfect. The music was stunning in the church and so fitting.
As for the reception, it's a blur for me but my mum had a constant stream of people telling her how amazing you were at the church and the reception. It really lifted the drinks reception and was so classy, fitting very well with our theme.
I can't thank you enough and am so glad I found you. I knew you were perfect as soon as I heard your voice!
I wish you every success in the future
Barbara & Matt xxxxx
Submitted by Barbara & Matt 15th May 2010
Hi Sonya,
Just a note to say thank you so much for the fantastic job you did at our wedding. From start to finish you really were an absolute pleasure to deal with and helped us with all the details from song choice to music type. You have a stunning voice and it made our day special. Our guests were really impressed and said that they enjoyed it as much as we did!!!! Thanks so much, Manus & Eimear. x
Submitted by Manus & Eimear 26th November 2010
We just wanted to let you know that your singing at our church ceremony for our wedding on the 27th of August was simply magical!! We still have people telling us you made the hair on the back of their neck stand with your voice. Amazing! i will be recommending you to all my family and friends for events, so i hope to see & hear you again real soon. Thanks again for all your help and for making our
wedding ceremony something we will cherish forever. x
Lots of Love
SJ & Gary McCloskey.
Submitted by Sarah Jane and Gary 17th September 2010
We just wanted to contact you to say thanks for doing such a great job at the wedding (April 4th Mount Argus Church, Harold's Cross) Everyone commented on the music and the singing, and how lovely your voice was (and they're a tough crowd) we really appreciate the efforts you went to in order to get the music just right. Thanks a million for making our day extra special!
Submitted by Mark and Geraldine on Thursday 4 December 2008
Thank you for the music on our day. It was great to have a unique voice that was versatile, we enjoyed every second and from the comments I think you will hear from some of our friends…
Submitted by Ellen & Michael on Thursday 4 December 2008
Testimonials 2008 – 2010 (testimonials taking from the a weddings forum)
Re: Knightsbrook Hotel Brides
by Potential Bridezilla » Fri Jul 16, 2010 1:44 pm
"Have to say as well our church singer was Sonya Grimes.
Absolutely fantastic singer and complete pleasure to deal with. 100% recommend her if anyone looking for a church singer "
___________________________________________________________________________
Marine Hotel Sutton – 15th of August 2009/ Edited with Video
by VickyKenny » Sat Aug 29, 2009 12:25 am
"Wedding Music : Sonya Grimes – http://www.sonyagrimes.com/ – 087 2287873
What a voice! Sonya is a total professional and she was full of great advice about what songs to pick.
I was not too sure about what bits you need songs for but she talks you through all the stages and how many songs you need and she has a great choice for all tastes.
Everyone loved her voice she had the place in tears. Her voice really did send shivers down me when I was walking up the aisle I would highly recommend her."
_________________________________________________________________________________________________
Wedding Singer Recommendation
by jennyandtim » Thu Sep 18, 2008 9:47 am
Hi Folks. I'm married one week today and want to recommend the singer I had for our wedding service. Her name is Sonya Grimes.
She is classically trained, has a fab voice, is a very nice person and was extremely helpful when I was choosing the music for the church service.
I had a lot of wedding guests talking about her after the service too and she told me that a lot of people went up to her after the church to tell her how good she was. I'd absolutely have no hesitation recommending her to anyone. She was really brilliant and a lovely person. She has a website where you can have a listen to some sample songs.
She was more expensive than another singer that we were thinking of, but she was well worth the extra money for her professionalism and amazing voice.
Jenny and tim
___________________________________________________________________________
_______
gerbil's day out

by gerbil » Tue May 06, 2008 3:26 pm
The ceremony was something we'd put a lot of work into, choosing readings etc and the music and it was definitely worth it. The music in particular (we had Sonya Grimes as the singer and she had her own accompanist) was complimented over and over by guests. We kept looking at each other and smiling. like loons!