Slieve Russell Hotel Golf & Country Club
Slieve Russell Hotel Golf & Country Club, Ballyconnell, Co. Cavan
Phone: + 353 (0) 49 952 6444
Mobile:
Fax: + 353 (0) 49 952 6046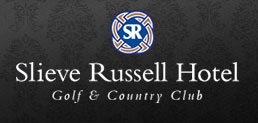 Why choose the Slieve Russell Hotel for your wedding?
It's easy to see why the 4 star Slieve Russell Hotel Golf & Country Club is one of the most popular wedding venues in Ireland. With a choice of beautifully appointed banqueting suites catering for parties from 20 – 660 and over 300 acres of impeccably groomed gardens, you can be guaranteed a stunning backdrop for your wedding day.
As a venue for your wedding reception the Slieve Russell Hotel Golf and Country Club is synonymous with the highest quality of excellent cuisine, professional service and attention to detail. We will ensure you are guaranteed a joyous and memorable wedding day.
For the most important day of your life, why would you settle for anything less.
To view our wedding packages please click here!
Civil Weddings
The Slieve Russell Hotel Golf and Country Club has been approved as a civil ceremony venue, however each couple must apply for it's own license. Full information, how to apply for a civil marriage ceremony is available on the Citizen's Information Website.
Imagine hosting your civil wedding or civil partnership ceremony* and enjoying the perfect reception at the Slieve Russell Hotel Golf & Country Club.
Each wedding, whether intimate or extravagant is a reflection of the couple's desires. Allow the Slieve Russell's elite team of experts to help craft your ideas for your perfect day. One of our magnificent suites shall be set up for your Civil wedding ceremony to your own design, decorations, covered chairs, flower arrangements or sparkling candles, all to create the perfect warm ambience for the proceedings.
Following your Civil wedding ceremony, guests are invited into the ballroom for the reception. Later, the music begins…..your partner takes your hand….you waltz onto the ballroom floor where all eyes are upon you the happy couple.
Civil Partnership
We are delighted to hear that the President of Ireland signed into Law the Civil the Civil Partnership Bill on the 19th July 2010. our unique venue is the perfect place for you civil partnership ceremony and celebration, with a choice of stunning rooms and suites. Finish off your celebrations with a wonderful meal in any of our beautifully appointed banqueting suites that lend an atmosphere of warmth and elegance fo your special occasion.  We can cater for small of large numbers, please contact us for more information, we'd love to hear from you.
Contact This Supplier
Areas Served By This Supplier
Slieve Russell Hotel Golf & Country Club serves:
Cavan