Rangoli – Bridal Jewellery and Hair Accessories by Aisling Nelson
Rangoli – Bridal Jewellery and Hair Accessories by Aisling Nelson, Studio 67 The Design Tower, Trinity Centre, Grand Canal Quay, Dublin 2
Phone: 01 6708476
Mobile: 087 6355655
Fax: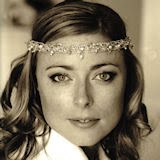 Are you looking for unique jewellery to complement your wedding gown?
Would you like to have hair accessories designed just for you?
Do you need help and advice on styling your elegant bridal look?
Aisling Nelson designs bespoke jewellery and hair accessories for weddings. She will work with you on a one-to-one basis to create the perfect accessories for your wedding day.
Dealing on an appointment basis, Aisling offers her clients a friendly and personal service. During an initial consultation, the bride can try on a variety of different styles and discuss the type of look she would like to create. Pieces can be easily customised to match a particular fabric or colour theme that you may have.
Rangoli designs include a variety of tiaras, hair combs and pins, and a selection of delicate hairwires, which can be woven through the hair. The jewellery ranges include necklace, bracelet and earrings, which can be bought individually and are available on 9ct gold or silver chain.
Aisling designs for brides, bridesmaids and mother of the bride. Some pieces are available to buy from stock while others are made to order. Aisling also makes pieces to commission where she will work in consultation with the client to design a one-off piece.
For more information and images of Rangoli jewellery visit www.rangoli.ie or contact Aisling to arrange an appointment to visit her showroom.
Rangoli Jewellery
Studio 67, The Design Tower, Trinity Centre, Grand Canal Quay, Dublin 2
Phone: +353 1 6708476 Mobile: +353 87 6355 655
http://www.rangoli.ie
http://www.rangolijewellery.blogspot.com/
http://www.weddingcircle.net