Nuremore Hotel & Golf Course
Nuremore Hotel & Golf Course, Carrickmacross, County Monaghan
Phone: +353 (0)429 661 438
Mobile:
Fax: +353 (0)429 661 853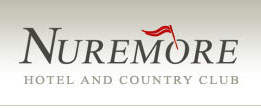 Special Midweek Wedding Offer – From €57.50 per person. For more information – click here!
For that very special event, a very special venue. The Nuremore Hotel in Carrickmacross has gained a reputation as one of Ireland's top venues for banquets, wedding receptions and celebrations. We bring together elegant banqueting suites, glorious surroundings, fine food and wine and four-star accommodation to make sure that your special day, is relaxed, enjoyable and truly unforgettable.
When it comes to wedding celebrations, creating exactly the right event is an art. That's why, over the years, hundreds of happy couples have chosen the Nuremore Hotel for their perfect wedding day venue.
The Nuremore offers everything you need to turn a special day into a masterpiece.
Lush, romantic landscaped gardens provide the perfect background for those treasured wedding photos. Elegant banqueting facilities – all air-conditioned for maximum comfort – offer a spacious and relaxed environment to enjoy dining, music and dancing.
Naturally the cuisine is of the highest standards with fine food and superb wines to suit all tastes, whilst at the same time offering great value for money. Of course, our well-stocked bar provides a full range of drinks and beverages, all served with the friendliness of which our staff are renowned.
Throughout the day you'll notice our attention to detail, which takes in everything from the re-carpet welcome to the little essentials like display stands and pillars for the wedding cake.
Then there is the special atmosphere of the hotel itself, its gracious elegance and beautiful gardens bringing to mind our Edwardian country-house roots.
Perhaps best of all you'll be secure in the knowledge that everything is taken care of, leaving you to free to enjoy the occasion.
After all, creating exactly the reception you want takes a certain artistry that only years of experience can bring. That's why, at the Nuremore Hotel, we are the masters in the art of creating perfect wedding celebrations.