Nickola Hendy – Church Singer Soprano
Nickola Hendy – Church Singer Soprano, Dublin
Phone: +353 (0)85 2321039
Mobile: +353 (0)85 2321039
Fax: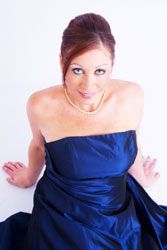 Award winning soprano Nickola Hendy began her singing at the age of 14 in her parish church and her passion for singing has grown stronger ever since. Classically trained at DIT College of Music, studying with Ms Anne-Marie O'Sullivan, she gained a 1st class honours degree and Masters in Performance with top excellence medals in both performance and academics.
Nickola is currently touring Nationwide with 'The Three Tenors'. She has sung in venues such as the National Concert Hall, The Gaeity Theatre, RDS Concert Hall, The Helix and Draoicht Theatre and has been broadcast on radio stations such as Lyric FM, East Coast Radio and Country Mix Radio. She has also performed solo roles with Opera Ireland, Opera Theatre Company (OTC) and Castleward Opera, Belfast. Nickola has also worked and toured with The National Chamber Choir of Ireland, the only professional choir in Ireland.
Nickola has been singing at weddings for many years and has amassed a large repertoire and can accomodate Traditional/Classical/Modern/Irish styles. She can act as your music co-ordinator, hiring all professional musicians according to your requirements, such as violinists, harpists, pianist, flautists and bag-pipes, and ensure all runs smoothly on the day.
Nickola is based is West Dublin, but is more than happy to travel nationwide. For a free consultation and literature to help you choose your music contact Nickola.
Testimonials:
Darren and Ann, July 22nd 2011, Castletown.
Hi Nickola, Just want to say a big THANK YOU from the bottom of my heart for the wonderful job both Rosanna and yourself did on our wedding day. The music was gorgeous with plenty of our guests commenting on how great ye were. You really have a fabulous voice and are very talented. You also put me at ease in the run up to the wedding   because it was obvious you know exactly what you are doing and your experience shines out.
On behalf of my HUSBAND AND I Thank You so very very much and i will be recommending you to any brides to be that i may be talking to.
Thanks again
Ann x
……….
Julie and Paul, Rathgar, June 2011.
"Nickola, thanks so much for the stunning music on Saturday, really helped create a wonderful atmosphere, we really appreciate it x Julie."
……….
Elaine and Michael, City Hall Dublin. May 2011.
"Nikki thank you soo much, the music at our wedding really made the day for us. Your voice soared across the Rotunda of City Hall just as I was making my grand entrance alongside my Mammy. It was just magical and – despite my being moved to tears – the most perfect way to start our big day out. The ceremony was extra special because of her beautiful singing. Thanks always!"
………
August 2010, Clongoes, Clane.
Hi Nickola
Just wanted to send you a quick message before we head off to thank you so so much for singing at our wedding yesterday. You were absoluatley fabulous and the organ was amazing.
Many thanks again and best wishes.
Catherine and Noel (Browne!!!)

————————————————————————
July 2010, Shankill Co.Dublin
Hi Nickola
I am back from my honeymoon and just wanted to give you an email to say thank you
Everyone is talking about you saying you were amazing and one of there favourite parts of the wedding was the church with you singing
You were brilliant you really made the day all I'm hearing is were did you find that girl i have given your information out so you never know
I knew how talented you were from your site but you astounded me on the day so much better live
Thanks once again
Emma and Peter
Wedding, Trinity College Dublin.
I just wanted to drop you a note to thank you for doing an absolutely fabulous job singing at our wedding – You have a really exceptional voice and everyone really enjoyed your pieces. Thank you so much, I would be delighted to recommend you to anyone!
Wedding, Kilcullen.
Thank you so much for your beautiful singing yesterday. Everyone thought you have such a beautiful voice. The first song particularly was amazing. Thank you.
Wedding, Booterstown.
We just wanted to say a big thank you for making our day so enjoyable! You and Kevin were wonderful. Lots of people commented on what a beautiful voice you have. Thanks so much and best wishes