New Ireland Limousines
New Ireland Limousines, Unit 67B
Phone: 01 8166666
Mobile:
Fax: 01 8484623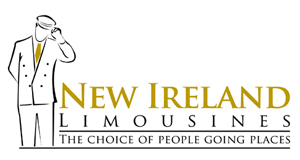 New Ireland Limousines offers you the very best selection of the highest quality wedding vehicles available in Dublin.
Although we are a Dublin based company, we will be happy to quote you for a wedding anywhere in Ireland for certain limousines.
Choosing the right car for your special day can make all the difference in the world.
Please take an opportunity to view some of our cars. You can view these cars together in our showrooms in Baldoyle from Monday to Saturday.
Formerly named Liam O'Loughlin Limousines, We at New Ireland Limousines have over 30 years experience in the chauffeur drive industry. We operate the largest fleet of limousines in Ireland. Unlike many of our competitors we own and operate all of the vehicles we advertise. We operate cars ranging from the latest Mercedes limousines to vintage Daimler Limousines, from people carriers and American style superstretch limousines to Mercedes and Lexus Saloons. We hope You will take time to look around our website and please dont hesitate to contact us if you have any questions.
Contact This Supplier
Areas Served By This Supplier
New Ireland Limousines serves:
Antrim
,
Armagh
,
Carlow
,
Cavan
,
Clare
,
Cork
,
Derry
,
Donegal
,
Down
,
Dublin
,
Fermanagh
,
Galway
,
Kerry
,
Kildare
,
Kilkenny
,
Laois
,
Leitrim
,
Limerick
,
Longford
,
Louth
,
Mayo
,
Meath
,
Monaghan
,
Offaly
,
Roscommon
,
Sligo
,
Tipperary
,
Tyrone
,
Waterford
,
Westmeath
,
Wexford
,
Wicklow