Marian Gale – Bridal Boutique
Marian Gale – Bridal Boutique, 8 The Mall, Donnybrook, Dublin 4
Phone: (01) 269 7460
Mobile:
Fax: (01) 269 7467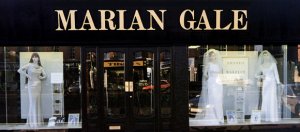 We do hope you will visit our boutique where you will find our exclusive range of Helen Marina dresses (www.helenmarinabridalwear.co.uk)& 2 pieces.
Helen Marina wins the award every year for the "Best Bridal Designer" in Britain. Her quality is superb; her designs, stunning; and her fabrics are spun exclusively for her.
Please allow 12 weeks for your dress to be made. We can make any size from 6 – 22. Prices for Helen Marina dresses are from €1195 – €2700.
We have also added 2 new designers to our collection for weddings, with prices from €500-€900.
For pared down elegance, weddings abroad, or "second time round", we have our "ready to wear" collection from Italy. Prices from €299 – €999, sizes 8 -18.
We do not operate an appointments policy but on Saturdays it is advisable. Should you wish Marian herself to co-ordinate and style your wedding please phone her directly on 01 – 2697460. Bridesmaid / Flowergirl dresses are also available in 50 shades! (€150 – €299). Mother of the Bride / Groom is also catered for and our policy is to list your wedding outfit so no two people will arrive in the same outfit.
To view our facebook page please click here!