Lily O'Briens chocolates
Lily O'Briens chocolates, Lily O'Briens, Green Road, Newbridge, Co. Kildare
Phone: +353 (0) 45 486800
Mobile:
Fax: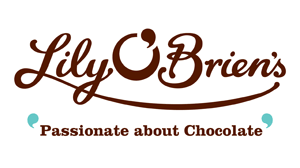 IN LOVE WITH LILY O'BRIEN'S
Are you looking for the perfect wedding favours? Do you want to thank your guests with a token from the special day? For gorgeous gifts on a momentous occasion, turn to Lily O'Brien's – one of Ireland's best-loved chocolatiers.
Lily O'Brien's now offers a range of delicious chocolates and gift boxes to mark your special moments. Available in a variety of different sized boxes from the Classic 2 Chocolate Box, scrumptious truffles or honeycomb crispy hearts in cream or black boxes, to an Elite 4 Chocolate Box which consists of four delicious chocolates in a cream, gold or silver boxes with a choice of elegant ribbons. All the boxes or swing tags can be personalised with names, dates or a special greeting message. Ever popular are the delicious Crispy Hearts, honeycomb and crispies encased in Lily O'Brien's signature milk chocolate then wrapped in pretty red or gold foil – perfect as decorative and delicious additions to your wedding table.
The Lily O'Brien's collection of chocolate favours is available online at www.lilyobriens.ie or tel: 045 486800 or alternatively pop our team an email at [email protected] .
Chocolate lovers can Save with 15% at www.LilyOBriens.ie by entering LOBWI15 at the checkout -