Hodson Bay Hotel & Spa
Hodson Bay Hotel & Spa, Athlone, Co. Westmeath
Phone: + 353 (0) 90 6442000
Mobile:
Fax: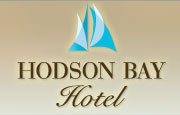 Hodson Bay Hotel has earned its reputation as one of Ireland's leading wedding venues. Its picturesque setting on the shores of Lough Ree, its award winning cuisine, quality of service and consistent level of professionalism demonstrated by the Wedding Management Team are just some of the reasons behind the success of weddings at Hodson Bay Hotel.
Superbly situated on the shores of Lough Ree, Hodson Bay Hotel is the picture perfect setting for every Bride and Groom that choose to share their special day with us. They can capture beautiful photographs to treasure with uninterrupted views of the lake and private landscaped gardens. Our accommodation in Athlone also enjoys the advantage that it is located on the outskirts of Athlone Town away from the hustle and bustle, enabling wedding guests to stay together and enjoy the day in its entirety with the newlyweds.
As this is your special occasion we commit to having only one wedding on any given day so you can be sure you are the centre of attention.
The elegant Clonmacnoise Suite accommodates between 150-400 guests in tasteful and stylish luxury, while the more intimate surroundings of the Killinure Suite is perfect for up to 130 guests. Both suites can be themed or customised to your individual preferences with chair covers, sashes and centerpieces. We would be delighted to recommend any additional features during your wedding consultation.
Ceremonial Occasions
As one of the finest wedding venues in Athlone, we are an approved venue for Civil Ceremonies and we have a number of different options available for your ceremony and reception. We have a selection of different rooms to suit all sizes. In addition we are also happy to offer one wedding per day. If you are looking to have a Civil Ceremony please contact us, as our expert team would be delighted to discuss it with you.
Testimonials
Read what some of our past wedding couples have to say about their wedding in Hodson Bay Hotel – one of Ireland's premier wedding venues.
"Myself and my husband had our wedding at The Hodson Bay on 26th March this year. We could not have been happier with the service, the food and the professionalism of the staff all round. We were given personal care from a great team who have made it their business to be the best in the business. I would highly recommend The Hodson Bay Hotel." Sarah Aherne 26th March 2011
To James who dealt with us so professionally and competently leading up to the wedding and to Pawel who took care of us on the day itself. From our first meeting with James we have been impressed with every service we have enquired about or received, nothing was too much and no detail too little. Pawel was superb on the day and handled everything so efficiently which left us to relax and enjoy our day. We have been receiving great feedback from our guests as to the wedding itself and this is the highest compliment we can pass on to your good selves. Thanks again and we look forward to dealing with you in the future." Kind Regards Cathal and Yasmin 13th August 2010
Contact This Supplier
Areas Served By This Supplier
Hodson Bay Hotel & Spa serves:
Westmeath