Harlequin: Entertainment for the Perfect Wedding
Harlequin: Entertainment for the Perfect Wedding, Dublin
Phone: +353 (0) 59 9100178
Mobile: +353 (0) 87 2139911
Fax: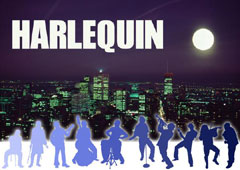 Promotion: 15% discount on all Full Service Entertainment bookings for wedding dates on Monday-Thursday.
Listen to some of Harlequins Sample Songs @ http://www.harlequinband.ie/media/media.html
In Ireland you will not meet another wedding band who takes so much time and effort to make every aspect of your wedding entertainment memorable, world-class and a totally personal experience. Harlequin endeavour to ensure your wedding entertainment is a tremendous success. Harlequin can provide a 6-piece band and play all styles of music. For ten years now Harlequin has been playing weddings all over the country and globe. Harlequin is highly regarded and has received a huge number of positive references from brides and grooms. Harlequin treat each and every wedding with the same special care and attention to detail ensuring a smoothly-run operation is delivered in a discrete and professional way. The band always moves equipment in the absence of the bridal party and guests and we try not to sound-check when your guests are present.
On our website there are a number of our songs for you to have a listen to. We upload different tracks on a continual basis for prospective clients to have a listen. Our set-lists are always customised for the individual bride/groom's tastes and we always play a little bit of something for everyone at our weddings. A normal set will consist of a variety of styles including Jazz, Latin, Swing, Pop, Rock, and all styles of Contempory music. We have a 2000-song repertoire and our band always dress in full black-tie unless requested not to do so by the bridal party, in which we would all dress in matching black.
Harlequin operates at the highest level of professionalism and never invites customers to your event. Though this is common practice we feel it is inappropriate and whilst this is becoming a concern for many wedding parties it won't be a concern for you. Harlequin's wedding entertainment lasts two and a half hours. Most of our work is performed as a six-piece band (with saxophone, drums, bass guitar, lead guitar, trumpet, clarinet and piano/keyboards/synths). We might take a short break if you are serving evening refreshments. Alternatively we can just go straight through without break. If your budget allows and you don't want disco we can keep the band going to a max of three and a half hours.
Harlequin can provide a complete music and entertainment service for your wedding. As the band are at the top end of what is available you might consider this package as the discount savings you would make will bring the entire fee in line with what you might be spending anyway if using separate suppliers. It is also much less time consuming as you will be dealing with a single person for all your wedding entertainment. We can offer a substantial discount on entertainment packages. The main benefit of choosing our package service is that you'll have top quality music for the entire day your wedding day and everything will run as smooth as a dye.
Our Full Day Package Includes:
Service: Our pianist is the top jazz and classical pianist in the country. Harlequin does a really nice high quality church wedding with gospel, classical, and more modern songs in our repertoire. As part of our service we would help you plan your church service so that it runs smoothly without a hitch and sounds professional in every respect. All of our church music clients have been overjoyed with this service and every service is personalised. We can supply specific references upon request.
Drinks / Arrivals Reception: Upon arrival at your wedding venue Harlequin will play a Southern Jazz set, either in the main foyer or bar. The volume of the Jazz portion of the entertainment is nice and low so that your guests can mingle, natter and catch up. We can also organise piano music for the arrival if you so wish.
Evening Reception: Harlequin's evening entertainment runs to about 2 ½ hours. From start to finish this is the most enjoyable part of the entertainment for your guests and we keep the floor full from beginning to end consistently reading the audience and knowing when to bring out the waltzes etc. We do try not to overload your audience with any one particular type of music so the evening really is a good balance with lots of variety. The more musicians you hire the better the overall impact is for your guests. Our weddings are well planned in advance in terms of what is happening and when. Time flows out of control on your wedding day so of course we move with that. In terms of etiquette, we can ease off or bind to tradition. You'll choose the components you'd like included in the entertainment and before the day arrives we will have a game-plan that you and you guests will enjoy 100%, no surprises.
DJ: With regard to DJ we only use Alan Geraghty from Galway to ensure maximum quality. He is one of the best DJ's in his field and always puts on a great show. He will keep the dance floor full and entertain your guests into the small hours.
One important point to note is that Harlequin is a fully live band. We never use backing tracks or supplemental sound in our mix. Live music always creates a better vibe for your celebrations. We always invite clients to send us their requested list of songs and we'll do them all and of course the first dance is always presented in a first class manner (absolutely no CDs). Lastly, when you book Harlequin, it is one less thing you will have to worry about and you can start to tell people you have a top class band lined-up for your celebration. Your complete satisfaction is of the utmost importance to us and your knowing that you can contact us for information of any nature allows us to deliver the best possible solution for your special day.
Harlequin is a regular fixture on the events circuit and there are numerous locations for prospective brides/grooms to view the band. We play numerous corporate and public functions throughout the country on an ongoing basis as well as many events on the wedding fair circuit so we should be playing near you soon. Please feel free to enquire with regards to a suitable location for you to see the band in your area. Our shows are always entertaining and you will have a great night when you come to see us.
Testimonials
The Number 1 Dance Band in Ireland – Hotpress Magazine
Definitely a Night to Remember – Exclusive, Slick, and Professional: Party Entertainment at its Best – Sunday World
"A Very Credible Act – Totally Entertaining" – Chris Evans
Whenever a great musician gets married these guys always get the gig. Why is that? – Ray Darcy
Thanks a million for Saturday. You guys were fantastic and rocked the place!! – Tamso & David, Harlequin Wedding Clients, July 08
The music was without doubt the highlight of our wedding day. Thanks so much for everything. You were truly outstanding and everyone has been singing your praises. Thanks again for a fantastic show. Loved it! 10 out of 10! – Jane & Mark, Harlequin Wedding Clients, July 08
I have booked Harlequin and think they are excellent. Also very nice and helpful to deal with. – Caroline, Harlequin Wedding Client, July 08
I'm also going with Harlequin – I honestly couldn't recommend them more – I'm telling everyone that listens and they are traveling for me!! – Upcoming Harlequin Bride
Harlequin are excellent I've seen them twice at this stage and due a third visit next week! Can't get enough. For me it was all about feeling confident that I am getting a professional service and even the smallest things such as email were spot on and the fact that you don't have to go to somebodies wedding to hear them. I would hate that! The music is super and completely live I traveled nearly 2hrs and was so glad I made the journey!! Definitely go and see the guys you won't be disappointed! – Gemma, Upcoming Harlequin Bride
Contact This Supplier
Areas Served By This Supplier
Harlequin: Entertainment for the Perfect Wedding serves:
Antrim
,
Armagh
,
Carlow
,
Cavan
,
Clare
,
Cork
,
Derry
,
Donegal
,
Down
,
Dublin
,
Fermanagh
,
Galway
,
Kerry
,
Kildare
,
Kilkenny
,
Laois
,
Leitrim
,
Limerick
,
Longford
,
Louth
,
Mayo
,
Meath
,
Monaghan
,
Offaly
,
Roscommon
,
Sligo
,
Tipperary
,
Tyrone
,
Waterford
,
Westmeath
,
Wexford
,
Wicklow