Glasson Country House Hotel & Golf Club
Glasson Country House Hotel & Golf Club, Athlone, Co. Westmeath
Phone: 00 353 (0) 90 6485120
Mobile:
Fax: 00 353 (0) 90 6485444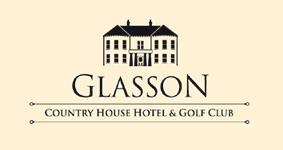 Your Perfect Wedding Day at Glasson
Welcome to the most unique wedding venue in Ireland where your wedding dreams come true. What makes us unique is not only the location but our warm family run atmosphere where all guests become an extended member of the family.Many congratulations on your upcoming wedding. Right now, you are probably looking at numerous locations for your wedding and reception. Glasson Hotel and Golf Club is a 4-star family-run hotel in Athlone, Westmeath, and we have been successfully holding wonderful weddings for over 15 years. This year we have even more exciting news for Brides & grooms to be, our NEW BANQUETING SUITE, The Dillon Room will be opening in April 2010. Here are just a few of the reasons that brides, grooms, and their families hold weddings at Glasson.Glasson Hotel & Golf Club is delighted to offer you the option to celebrate your special day with an intimate wedding blessing or civil ceremony in one of our beautiful banqueting suites. Following the ceremony , your chosen menu can be served to your close family and guests in a separate banqueting suite.
The wedding setting. Glasson is a former family farm with a manor house that dates to 1780. The former farm is now one of the best golf courses in Ireland and the golf club has superb views of Lough Ree and the surrounding countryside.
A convenient wedding location. Located in the true geographical centre of Ireland, family and guests will find that it's less than two hours from anywhere in Ireland; the drive is just 90 minutes from Dublin along the new M6.
A dedicated wedding specialist. You don't have to worry about anything at the wedding reception as we can organise everything for you and your family. Just tell us what you want and we can get started.
Menus are "suggestions" and not dictated to you. Tell us what you want and we will strive to find it for you. It's your day, after all!
* Fabulous New Banqueting Suite catering for up to 300 Guests
* Exciting Menus to Suite all tastes. The food on the wedding menu primarily features local produce.
* All inclusive Wedding Packages available.
* Approved and reliable "service providers" such as photographers and DJs.
* Easy terms and conditions with no hidden costs.
* On-site accommodation. Beautiful 4-star rooms and suites with views of the lake and golf course are right upstairs after the wedding.
* A golf course that's among the best in Ireland right outside the front door. And the option of a lake cruise for groups of four to 80.
* A beautiful location for wedding photos.
"The Glasson Experience should be bottled and given to all involved in Irish Weddings."
Weddings Are Extremely Special at Glasson Hotel and We Go All Out to Make Sure that Everyone Has a Wonderful Weekend
"Ask us what you want and we'll give it to you." That's our motto when it comes to weddings. From the moment the bride, groom, and family arrive, you'll be pampered and provided with everything you need for an enjoyable weekend. You'll find that we are totally committed to making sure that your special day is wonderful for you, your guests, and the family.
Sincerely,
Gareth Jones
Testimonial
·                 Dear Gareth, Again, we wish to thank you, Robin and all of the hotel staff for the care and professionalism shown during our reception on 28 July. Everything went perfectly on the day – the meal was wonderful, staff were attentive and courteous and all of our guests thoroughly enjoyed the event. The accommodation was also top quality. We have no hesitation in recommending the hotel to anyone interested in finding a very special venue for a wedding reception or other important event. Kind regards,
Submitted by Fiona and Martin on Monday 22 August 2011
·                 Gareth, Thanks very much to yourself, Robin and all the Reid family. You ensured everything was perfect for us on the day. In particular the food on the day was excellent. Any of the guests we've spoken to since have all complimented the food and service on the day. Personally, the food was the best I've ever had a wedding. It was served to a high standard restaurant quality to all guests – which was some achievement considering there was almost 250 guests! It was a pleasure dealing with you and all the staff. The staff at Glasson Golf Club were extremely helpful with all our requests and queries in the run up to our big day. Everything went absolutely perfectly on the day, and we are very grateful to Glasson Golf club for making this happen for us. We had an absolutely wonderful day. Our overall experience with Glasson Golf club was very positive and we would not hesitate to recommend the hotel to friends and family for future weddings and other events. Thanks again for everything,
Submitted by David & Anna. on Tuesday 22 February 2011
Contact This Supplier
Areas Served By This Supplier
Glasson Country House Hotel & Golf Club serves:
Westmeath