Galway Bay Hotel
Galway Bay Hotel, The Promenade, Salthill, Co. Galway
Phone: 353 (0) 91 520520
Mobile:
Fax: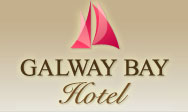 Overlooking Galway Bay and the Clare Hills, Galway Bay Hotel is an Award winning 4 star hotel considered by many to be one of the top hotels in Galway. Our Galway Hotel caters for all occasions including Weddings, Conferences, Meetings & Events, Group Getaways, and more.
Conveniently nestled along Salthill's promenade, our luxury hotel in Galway is only a 5 minute drive from Galway City, while at the same time allowing for great ease of access for exploring Connemara and the Aran Islands. It's also the perfect location for your holiday in Ireland with a vast range of local activities to suit everyone.
Cermonial Occasions
As one of the finest wedding venues in Galway, we are an approved venue for Civil Ceremonies and we have a number of different options available for your ceremony and reception. However many guests will be attending your ceremonyat our Salthill hotel, we have selection of different rooms to suit all sizes. In addition we are also happy to offer one wedding per day for the majority of dates. If you are looking to have a Civil Ceremony please contact us, as our expert team would be delighted to discuss it with you.
Testimonials:
Read what some of our past wedding couples have to say about their wedding in Galway Bay Hotel – one of Ireland's premier wedding venues.
"Thanks so much to you and all the staff for making our Wedding Day so special. All of our guests commented on how professional everyone was and how well organised the day was. You really went that extra mile for us, not just on the day but throughout the year also. We are really grateful that we have so many memories to treasure from our Special Day." Antoinette and Michael O'Riordan
"Thank you for making our Wedding Day so perfect. You made us all feel very welcome and the staff are a credit to you, so professional yet so kind and helpful. The atmosphere was excellent and the food, well what can we say about the food except that it was delicious and first class." Rebecca and Colin Boyce
"Dan, you really went out of your way for us on our wedding day. With you and your team taking care of us I didn't only have the best day of my life, I really had the best week of my life. Your customer service is truly a cut above the rest and I know you display this to every single guest that visits your hotel. We know that every couple who celebrates their wedding day with you will have such a wonderful day just as we did." Clare and Stephen Connolly
Contact This Supplier
Areas Served By This Supplier
Galway Bay Hotel serves:
Galway