Frog Prince Weddings & Events – Nationwide Service
Frog Prince Weddings & Events – Nationwide Service, North City Business Park, Dublin 11
Phone: 01 8568613
Mobile:
Fax: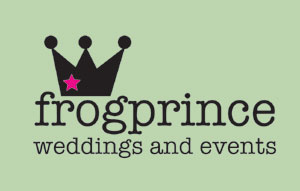 Frog Prince Weddings & Events
Floral Design – Venue Decor – Ceremony Dressing
At the Forefront of Creative Wedding Day and Event Design – Ireland
The design team at Frog Prince Weddings & Events understand that this is your day and it should be a true reflection of you both as a couple. We're here to help you create a fairytale wedding that will exceed all your expectations, a day that you, your friends and family will remember and cherish forever.
Whatever your budget we offer a range of wedding services and wedding packages that are sure to inspire. We understand that most couples don't have access to unlimited wedding funds and we are committed to providing the best quality of goods and services within budget no matter how large or small that may be!
Every wedding we create is designed and tailor made after a full consultation with you, the bride and groom. We stock thousands of items, ensuring the best quality and widest selection for you to choose from. All of our staff are highly trained, we pride ourselves on being creative, innovative and just a little different to the norm.
We stock:
* Chair Covers
* Fairy Light Backdrops
* Tea Light Holders
* Satin & Organza Sashes
* Luxurious Tablecloths
* Napkins
* Candelabras
* Lighting
* Pipe & Draping
* Crystal Candelabras
* Designer Glassware
* Floral Arrangements
* Bridal Party Flowers
Our services include:
* Church Dressing -Candelabras, Bay Trees, Pew Ends, Pillar Candle Stands, Lanterns, Pew Bows
* Civil Ceremony Specialists- White Aisle Runners, Candle Stands, Backdrops, Lighting
* Room Dressing – Linens, Chair Covers, Centre Pieces, Candelabras, Flowers, Fairy Light Backdrops, Pipe & Drape
* Bridal Flowers – Bouquets, Corsages, Altar Arrangements, Centre Pieces
* Themed weddings – Black & White, Diamond & Pearls, Moroccan, Country Cottage, Funky, Old World Romance.
* All the little extras – Lanterns, Vases, Mirrors, Table Diamonds, Indoor & Outdoor Fairy Lights, Petals, Crystal and much, more.
If you're looking for something unique, a little different to the norm or maybe just a few ideas, please contact us as we'd be delighted to meet with you, to show you samples of our work and discuss any ideas you may have.
We look forward to hearing from you.
Contact This Supplier
Areas Served By This Supplier
Frog Prince Weddings & Events – Nationwide Service serves:
Antrim
,
Armagh
,
Carlow
,
Cavan
,
Clare
,
Cork
,
Derry
,
Donegal
,
Down
,
Dublin
,
Fermanagh
,
Galway
,
Kerry
,
Kildare
,
Kilkenny
,
Laois
,
Leitrim
,
Limerick
,
Longford
,
Louth
,
Mayo
,
Meath
,
Monaghan
,
Offaly
,
Roscommon
,
Sligo
,
Tipperary
,
Tyrone
,
Waterford
,
Westmeath
,
Wexford
,
Wicklow