Fitzpatrick Castle Hotel
Fitzpatrick Castle Hotel, Fitzpatrick Castle Hotel, Killiney, Co. Dublin
Phone: +353 1 230 5400
Mobile:
Fax: +353 1 230 5430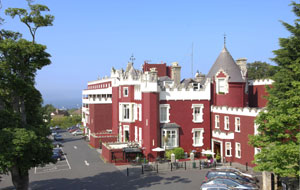 Your wedding day is one of the most important days of your life……
We at Fitzpatrick's Castle Hotel are here to ensure this special memory will last forever. Situated just 9 miles south of Dublin's city centre, this beautiful castle hotel stands proudly in its own grounds amidst the magnificent woodland preserve of Killiney Hill overlooking Dublin Bay.
With a dedicated management team on hand to ensure all your needs & special requests are catered for. From the moment you step onto the red carpet at Fitzpatrick Castle Hotel, your wedding dream becomes reality. The magical setting of our 18th century castle hotel makes this the ideal venue to host your wedding reception.
From large formal reception to small and intimate, we have the suite for you. And our magnificent gardens provide the perfect backdrop for your wedding photographs.
To view our wedding brochure please click here!
Testimonials:
1st December 2012
Hi Eilish
We just wanted to say a massive thank you to you and all the staff at Fitzpatricks. We were absolutely blown away by the hospitality we received. Every single staff member that we had the pleasure of meeting did their job with a smaile on their face, they went above and beyond with any request we had and we just wanted to say thank you for that. We had an amazing day and everything went to plan so thank you for organising everything.
Kindest Regards
Nikki & Ciarán
27th October 2012
Dear Eilish,
We just wanted to write to you to express our appreciation for the exceptional service and attention to detail we received from you during Sarah & Dara's wedding. As you can imagine we had visited a number of wedding fairs before we went to Fitzpatricks. From the moment we arrived we felt at home and knew that the venue was decided. Syed was the victim chosen to deal with us! He put everyone at ease immediately and we were delighted to know that he would be there on the day.
When we came to 'hammer out the deal' we enjoyed dealing with you enormously. Everything we needed was clarified and provided as requested. Prompt emails left no element of doubt. Nowhere has sorted our Aunty Margaret's dinner correctly before! Thanks again – it is details like this that make all the difference. All our guests said it was the 'best wedding they were ever at'!. They complimented the food and staff and just the nice atmosphere in the hotel.
Again a personal 'thank you' to you and Syed – it was a pleasure to deal with you. We will be recommending you to everyone we know and look forward to dealing with you again.
All our best wishes for the future
Damien & Irene Richardson
26th October 2012
Hi Eilish
Just a quick mail before we head off on honeymoon to say a Big Big Thank You to you and all the staff for making our wedding day so special – we had a fab day! Food & service was absolutely amazing and everyone is still talking about it. Thank you so much.
Louise & Alan
25th October 2012
Hi Eilish
We just wanted to thank you and all the staff at the Fitzpatrick Castle Hotel for a wonderful wedding. Everything was great from the reception to the food and it exceeded our expectations. All our guests were delighted and told us that it was teh best wedding they ever attended. The tables were beautifully decorated and the food was just marvellous and everything was perfectly organised.
A special thanks also to Syed who helped us throughout the evening and ensured we enjoyed a fantastic day.
Really, really great work
Elaine & Matthias
Contact This Supplier
Areas Served By This Supplier
Fitzpatrick Castle Hotel serves:
Dublin