Dromhall Hotel
Dromhall Hotel, Dromhall Hotel, Killarney, Co. Kerry
Phone: +353 (0)64 66 39300
Mobile:
Fax: +353 (0) 64 66 39301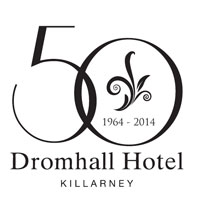 From the moment you step off the red carpet into the elegant marble lobby prepare to be swept away by fine food, gracious style and luxurious surrounds… Family owned & managed Killarney's 4 Star Dromhall Hotel is perfectly located close to the town centre yet pleasantly secluded. The Randles family have been creating wedding day memories for over 50 years and with the Shelbourne Ballroom having been completely renovated in January 2010 the hotel promises to meet all the expectations of the modern Bride & Groom.
The Shelbourne Suite caters for 80 to 300 guests with ease and boasts a private entrance ensuring exclusivity on your Special Day. The hotel also provides ample free private parking along with a Leisure Club & Spa.
The wide range of Wedding Packages available includes special 'All Inclusive' options from €47 per person. The hotel also caters for civil ceremonies and welcomes special requests.
Killarney itself is easily accessible by both air and land and provides unique photographic opportunities.
Fabulous New Winter Wedding Offer
All-inclusive packages available from just €42 per person. Valid for January, February & March 2016 for a minimum of 100 guests. Full details available on our website wedding page – (same link address that you have)
You can't say fairer than that! Full details available on our website wedding page - http://www.dromhall.com/wedding-hotel-killarney.html
Contact Sue now to check available dates – 064 6639300 or [email protected]. Let our experience make your day!
Meet with the hotel's Dedicated Wedding Co-ordinator for a no obligation walk through of the venue and personalised quotation.
A Taste of what Bridal Couples of The Dromhall Hotel Enjoy
* Dedicated Wedding Planner offering Advice throughout
* Red Carpet Welcome & Champagne for the Newlyweds
* Chauffeur Driven Luxury Car for Bride & Groom
* Overnight in Bridal Suite with Champagne Breakfast
* Personalized Menus, Table Plans & Linen Napkins
* Fresh Floral Arrangements accompanied by Candles on all tables
* Complimentary chair covers & silver sashes
* Complimentary 1st Year Anniversary Dinner
*Complimentary wedding menu tasting for 4 people
* And a Whole Lot More!
CREATING WEDDING DAY MEMORIES FOR 50 YEARS