Dingle Skellig Hotel
Dingle Skellig Hotel, Dingle, Co. Kerry
Phone: +353 (0) 66 9150200
Mobile:
Fax: +353 (0) 66 9151501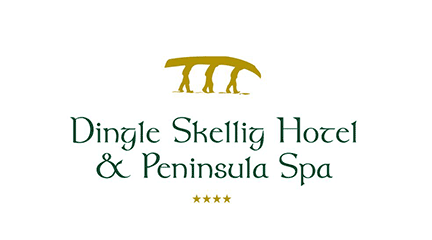 The 4 Star Dingle Skellig Hotel & Peninsula Spa is located on the shores of Dingle Harbour & Bay, the delightful contrast of the peninsula's soaring mountains, long sandy beaches and blue Atlantic waters, combine to form some of the most magnificent scenery in Ireland.
To compliment this beautiful setting we also bring you the Peninsula Spa where calm and peace replaces stress and tension and where mind and body become one with the beauty and serenity of the Dingle Peninsula.
At the Dingle Skellig Hotel, we specialise in wedding receptions where we aim to take care of all plans concerning your reception arrangements.
Our Skellig Suite and its panoramic views make it one of the most stunning and unique Wedding venues in the world. With our elegant style and intimate surroundings, our Skellig Suite opens onto a Sun Terrace with manicured gardens leading down to the shores of the Harbour – Picture Perfect!
Renowned for our dedication to looking after you on your most memorable day, our team provide the very best in personal service, friendliness, professionalism and of course, a superb Wedding Reception. The Skellig Suite is ideal for Weddings up to 240 guests or for the more intimate occasion, the Conservatory of our Coastguard Restaurant is an ideal location for parties of 60 or less.
The Dingle Skellig Hotel caters for one wedding per day, thus ensuring our undivided attention for the Bride and Groom and their guests.
It is our intention that you relax and enjoy yourselves, knowing that everything will run smoothly on the day.