Colin McLean – Classical Guitarist
Colin McLean – Classical Guitarist, Co. Cork.
Phone: 086 1955457
Mobile: 086 1955457
Fax: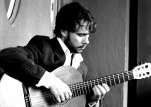 Are you looking to make your wedding day extra special? Why not add that extra special touch of having a romantic classical guitar playing at your ceremony or reception?
Contact Colin now to see if he is available to play for your wedding day ensure it is the most special day of your lives.
Colin provides a tailored service, working with you to create the perfect atmosphere for your wedding.
Colin has a large repertoire of romantic music to chose from, but if you have any special requests, Colin will integrate these into his performance to make your day to make it truely unique.
Colin first played Classical Guitar at the age of eighteen with his first teacher, Jerry Creedon. This led to his entrance into the Degree course in the Cork School of Music later that year where Colin excelled in the art of performance.
During his time on the Degree course he studied with various guitarists and received many master classes from some of the worlds greatest guitarists such as Fabio Zanon, Paul Gregory, David Leisner, Magnus Anderson and Craig Ogden.
In 2002 Colin decided to take a year out and reform his technique. For this reason he travelled to London during this year to study with the Brazilian Virtuoso Fabio Zanon. Under the supervision of Zanon, Colin completed a Masters in performance over the following two years.
Colin is currently studying with the German Master Tilman Hoppstock and is performing around Ireland.
Contact This Supplier
Areas Served By This Supplier
Colin McLean – Classical Guitarist serves:
Antrim
,
Armagh
,
Carlow
,
Cavan
,
Clare
,
Cork
,
Derry
,
Donegal
,
Down
,
Dublin
,
Fermanagh
,
Galway
,
Kerry
,
Kildare
,
Kilkenny
,
Laois
,
Leitrim
,
Limerick
,
Longford
,
Louth
,
Mayo
,
Meath
,
Monaghan
,
Offaly
,
Roscommon
,
Sligo
,
Tipperary
,
Tyrone
,
Waterford
,
Westmeath
,
Wexford
,
Wicklow