Cloghan Castle
Cloghan Castle, Loughrea, Co. Galway
Phone: +353-(0)91-870102
Mobile:
Fax: +353-(0)91-847547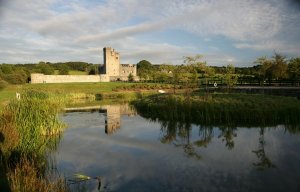 Cloghan Castle is an exclusive, self catering venue which is ideal for that fairytale wedding reception, birthday party, family reunion or special event in the rolling hills near Galway in the West of Ireland.
We hope to make it as easy as possible for you, our guests, to organise your wedding, party or event at Cloghan Castle. Some couples may be put off with the prospect of having to arrange a wedding in a self-catering venue and maybe from abroad, however it is very do-able, and we are sure our information pack will be of great help to you in the co-ordination of your event. All of the services shown on our website and in our brochure have experience working at, or in association with Cloghan Castle and they will be of tremendous assistance to you. It is just a matter of making some phone calls.
Cloghan Castle is rented on an exclusive, self-catering basis only and features 7 luxurious double bedrooms; Banquet Hall seating 120 guests; Drawing Room upstairs with large open fireplace; Barbeque facility on battlement and a fully-equipped Kitchen
Many of our guests are not from the locality, or even from this country, and with this in mind we put together an information pack (see our Contact page) containing as much information as possible about the local services you will require in the organisation of your event.