Castleknock Hotel & Country Club
Castleknock Hotel & Country Club, Porterstown Road, Castleknock, Dublin 15
Phone: +353 (0)1 640 6300
Mobile:
Fax: +353 (0)1 630 6303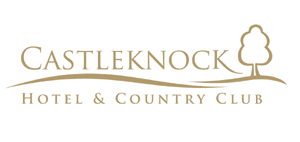 A modern luxurious Dublin hotel set in a stunning country setting
Whatever your dream, we make it a reality
The award winning Castleknock Hotel, Dublin , an FBD Hotel is now considered  by many to be the  premier wedding venue in Dublin. Set just outside Castleknock village in close proximity to the Phoenix Park between Luttrellstown Castle and Farmleigh House, the hotel is a contemporary alternative to the traditional hotel venue.
Opened in 2005, the hotel has a range of new facilities designed and built for our Castleknock weddings from 2011 including a  brand new bridal suite  and heated and sheltered smoking terrace adjacent to the main wedding ballroom.
We believe that our greatest strength is our service excellence and the quality of our food. Castleknock Hotel & Country Club has won no fewer than 11 awards since 2008.   With an AA Rosette Award for The Park Restaurant, Best Food and Drink Experience 2010 by the D15 Chamber of Commerce and the Customer Service Excellence Award in Tourism and Hospitality for 2009 and 2010 from The Fingal Chamber of Commerce, we'll make sure that you have the wedding day you'll want to remember.
Wedding Packages
There is a brand new package available for 2012 and 2013 called 'Pick a Perk' where couples can create their very own wedding package to suit their own individual taste. This means that you no longer have to pay for extra items that you just don't need or want.   Click on the package of your choice for more information on what they include.
Pick a Perk Package from €63 midweek and €77 on weekends
Pick a Perk is also available from just €55 from 1st November till 1st March*
*excludes 24th December – 1st January
Accommodation packages from just €48 per person midweek and €58 per person on Friday and Saturday nights with breakfast included.
The Phoenix Suite
The Phoenix Suite really is the perfect setting for a wedding reception. There are two fully stocked bars within the room and a new private smoking terrace with a canopy and heaters and exclusive access directly from the ballroom.
The room is serviced by its own kitchen enabling the hotel to offer an efficient high class service for your meal. The hotel has also installed a new mood lighting system which creates the perfect ambience within the room with variable coloured settings available at your discretion.
The Phoenix Suite at the Castleknock Hotel Dublin has a flexible layout that allows the room to change size depending on the required capacity without making the room look too empty or crowded. Our maximum capacity for a wedding is 406 guests.
For an average sized wedding of up to 130 guests, you will only need to use the Sierra Hawthorn Suite which is a rectangular shaped room although there is the option for your evening wedding entertainment to be setup in the adjoining suite allowing a fluid transition from the speeches to the entertainment without any guest disruption if you wish. Our staff simply pull across the moveable dividing wall to unveil your band or DJ to the surprise of your guests. This avoids the lull that regularly affects weddings as they dismantle the top table to setup the band and maintains the momentum of your special evening.
For more information on this special wedding venue or a tour of the hotel, please contact our events team who would be delighted to assist you.
Intimate Weddings at the Park
If you are planning a small intimate wedding for up to 70 people sitting for dinner, there is the option to avail of the award winning Park Restaurant for your reception.
Upon entering 'The Park', guests will be amazed with the elegant ambience of candlelit tables, stunning decor with parkland and lake views of the hotel's golf course and the new gardens, which is tastefully up lit at night.
After your meal and speeches, your party can then move to the Phoenix Suite for your afters party which can accommodate additional guests.
Civil Ceremonies
Civil Ceremonies are becoming increasingly popular for wedding couples in Ireland. The management and staff at Castleknock Hotel Dublin understand that your wedding day is extremely special to you both and that you may have some personal requirements. If you wish to hold your civil ceremony in Dublin, the Castleknock Hotel offers very competitive rates. All ceremonies can be tailored to your own specific requirements making the hotel one of the most impressive civil ceremony venues in Dublin.
The Castleknock Suite is the perfect room for a small private wedding  ceremony in Dublin  with family and friends. The candle filled room can accommodate up to 120 guests and has a small balcony in front of the ceremonial table which overlooks the local countryside and lake. There is also  the option to hire chair covers for your ceremony. You will then proceed to either the Park Restaurant or the Phoenix Suite for your wedding reception.
For more information email [email protected] or call (01) 640 6300 and ask for Dearbhla Sheridan, Events Manager or Audrey McGowan, Events Co-ordinator
Testimonials
Deirdre & Brian Hennessy 17th September 2011
Thank you for all your help in the organising of our wedding yesterday. Everything went really well for us. We enjoy the day as did our guests. So again, a big thank you.
Elena and Liam Lynch 14th September 2011
Thank you so much for the wonderful job you did, we enjoyed every single moment  at the hotel  food was fantastic, the room was the best ever. Also thanks a lot for the reception and red carpet.
One complaint though – it went too fast!
Here I am a married woman and my life is even more crazy busy, and I am already tired
So, once again, thanks a lot to you and the rest of the team! We will recommend Castleknock Hotel to all of our friends for any occasion!
Sharon and Michael    O'Connor  1st September  2011
Thank you for all your help in the run up to our Wedding. We had an amazing day.
The staff/service of hotel were fantastic and were always on hand if we needed anything.   Thanks again.
Aine and Conor  Burns 18th June 2011
I  just wanted  to thank you and all the staff for all your help in the run up to and of course on the day of our wedding itself. Everything went really great and we had a fantastic day.
Aisling and Shane Madigan 14th May  2011
Thanks so much for everything!! Everything was amazing!! Syliva conducted everything so well on the day and all the staff where so friendly and helpful. I had heard that some hotels just fob you off the day after the wedding and all the smiles stop, but the Hotel was perfect the whole weekend and everyone had a ball!! So thank you all soo much!!
Denise and Stephen Judge  7th May 2011
I just want to say a huge thank you to all the teamin Castleknock hotel for the excellent service, great food and venue
which played a big part in our special day! We loved every minute of the day and didn't want it to end! All our guests are talking about the day saying it was the best wedding they have been to so all the guests will be returning to the hotel as we certainly will and will be recommending the hotel to everyone.
Sandra and Simon Roberts 29th April 2011
Now that my wife and i have had time to reflect on the excellent service that every member of your staff gave us, on every aspect of our stay for our son Simon and Sandra's recent wedding.
So once again thank you all very much.
Arfon Roberts (Simon's   Dad)
Margaret & John O Brien 22nd January 2011
I just wanted to drop you an email to thank yourself and Sylvia and all the staff who made our wedding day spectacular. It was a pleasure dealing with you from start to finish. From the minute we stepped out of the car until we checked out the following day, everything was amazing. The attention to detail that you and your team showed us was second to none. All of our guests complimented the chef as the food was fabulous.
I cannot thank you enough for making our dreams come true. I also got a great surprise when I walked into the reception room and the seat covers and bows were there to add that final touch. I would and will recommend Castleknock Hotel to anybody who I know is getting married and looking for a truly special venue.
Thank you,
Suzanne and Paul Cleary 30th December 2010
Just wanted to say a big thank you to you  and the girls for all there brilliant hard work to make our special day so perfect, everyone really enjoyed themselves and all loved the food, the service was amazing, we are so delighted we chose to have our wedding in your hotel. We would highly recommend the hotel to all friends and look forward to staying with ye again.
Aisling and Paul Hardy 28th August 2010
Aisling and i would like to thank you and all the staff for making our wedding day so enjoyable at Castleknock hotel. We really did enjoy the day. Please can you thank Sylvia too.
We are just back off honeymoon in Italy (Sorrento and Rome) and we had a fantastic time.(-:
We are grateful for all you did for us and thank you on behalf of Freda too. She was so thankful.
We will without hesitation always recommend Castleknock Hotel to family and friends.
Thank you all once more.
Kindest regards,
Paul & Aisling Hardy
I just want to say we had our wedding in the castleknock hotel in September 2009 and the staff were very helpful, even though we had a small amount of 50 people they were able to move the rooms around to suit the amount of people there. Food was great and we got such a good price. I would really recommend the Castleknock hotel to anyone getting married
Submitted by Lisa & Johnny on Monday 23 August 2010
Hi Dearbhla,
Just back from our honeymoon! had a fab time.
Mailing to say thank you so much for making our wedding a brilliant and relaxing day, from start to finish.
We had a fabulous time. All our guests are still talking about the day and they were very impressed with the hotel standard and professionalism. Many thanks again all the best.
Submitted by Joyce and Colin McGrath on Thursday 22 July 2010
Damien and I would just like to thank you all at the hotel, so much for everything. From the moment we booked our wedding with you at the wedding fair, up till the day after the wedding you have all been so so good to us and ever so helpful. Dearbhla, thanks so much for all your help with everything, you're a star!! And also to Valerie who was very good to us too! Down to every minor and major detail – both of you girls were great!
Big thank you also to Sylvia who was absolutely fantastic, we have never seen food served in such a great order before! The meal was perfect – everything was perfect and went so well!
We would also like to thank you for looking after us at our friends wedding Saturday 7th August! Our room was decorated with petals and a lovely congratulations cake – really nice touch made us feel very welcome!!! Sylvia also made sure we were okay, even though, this time we were not at the head table, she was still as good to us!!!From the bottom of our hearts , from us to all of you guys – thank you for the best day of our lives….! I want you to know we will highly recommend the Castleknock Hotel to anyone looking to get married! Look forward to seeing you all again someday soon, Best wishes,
Submitted by Lorraine and Damien Hartigan on Saturday 5 June 2010
Contact This Supplier
Areas Served By This Supplier
Castleknock Hotel & Country Club serves:
Dublin