Caoimhe Conlon – Flute
Caoimhe Conlon – Flute, Co.Cork
Phone: 086 3209442
Mobile: 086 3209442
Fax: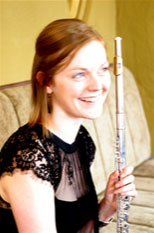 Caoimhe is a classically trained flautist. She began her musical studies on the traditional Irish flute before moving to the classical flute. She studied in the Royal Irish Academy of Music and Cork School of Music where she is currently lecturer in flute and Community Music. Caoimhe has toured extensively throughout Ireland, Europe and America and has performed in concert venues as diverse as Waterfront Hall, Belfast, Carnegie Hall and Disneyland, California.
Music plays a vital role in creating the perfect wedding day. Caoimhe can add that elegant touch to your wedding ceremony or drinks reception with her diverse range of repertoire. Her mixture of classical, traditional and popular music will give you the opportunity to make your day not only special, but also unique.
Caoimhe performs solo or with any combination of the following instruments:
Voice Violin
Classical Guitar Viola
Folk guitar Cello
Testimonials:
We both want to thank you for helping to make our wedding day perfect! Everyone absolutely loved the music. Your help and advice in advance of the day was both needed and welcome! Thanks also for accommodating our own personal touches – it really helped to make the ceremony special.
Regards,
Deirdre & Mike
Caoimhe played the flute as part of an ensemble at our wedding in Madeira. Her beautiful playing soared throughout the church. Our guests loved the music throughout the whole ceremony. Caoimhe was a complete professional from start to finish & we would have the utmost pleasure in recommending her to anyone.
Lisa and Niall
My new husband and I cannot you enough for providing such beautiful church music on our wedding day. It was a breath of fresh air to deal with such a professional musician who took all of our needs into consideration and travelled a long distance to play for our big day.
The sound of the classical flute & guitar made the church experience an enchanting one for us and we would have no hesitation in recommending you to all future couples who are looking for something classical and stylish. So many of our guests commented on our church music also and were intrigued to know more about the musicians.
All in all we were delighted with the professional & efficient service provided during the build up to the wedding and the end result in the church will be talked about for a long time to come.
Kind Regards,
Regina & Fiachra
We just wanted to say a big "Thank You" for the fantastic music you provided on our wedding day. Our wedding ceremony was so much more than we could have hoped for because of the beautiful music provided by yourself and Nicola. It made the mood in the church so much more special, and all of our guests were talking about it afterwards. Two of our guests who are getting married next year even asked for your number after the wedding.
Again, thank you for being there and also for helping us to choose the songs and hymns, it made the organisation of the day so much easier.
Best regards,
Noel and Sarah
We were thrilled with the music on our wedding day. The beautiful, haunting flute and guitar added just the right touch of magic to the occassion. We knew we wanted traditional songs for the ceremony but didn't have any particular pieces in mind. Caoimhe was so generous with her time, meeting us before hand and playing a variety of songs to help us choose. She took a look at our ceremony ideas and had great suggestions as to what music might suit which part. The music tied all our ideas together and helped create a wonderful, happy ceremony – just what we wanted. Many thanks Caoimhe.
Caitriona and Dave