Bridge House Hotel
Bridge House Hotel, Tullamore, Co. Offaly
Phone: Lo call - 1850 312 312 or 057 9325600
Mobile:
Fax: +353 57 9325690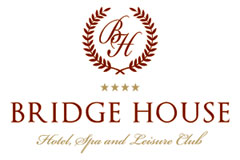 Say I do in style at the Bridge House Hotel in Tullamore, Co. Offaly
The Bridge House Hotel in Tullamore, Co. Offaly, located less than 90 minutes from Dublin, Galway and Limerick, is a hidden gem with the answer to every one of your wedding needs including venues for civil ceremonies, large weddings and intimate and stylish wedding packages for receptions.
Located close to the beautiful local Tullamore gardens, the castle grounds, town park and the world renowned Tullamore Dew Heritage centre, newlyweds can capture some truly romantic wedding photographs, and within its own walls the Bridge House Hotel offers picturesque backdrops including the stunning Secret Garden, a special place for newlyweds to spend a few precious moments together and of course the elegant entrance and foyer at the Bridge House Hotel creating a grand backdrop to your arrival, with its elegant staircase giving you and your guests and the first taste of the style that is evident throughout the hotel.
The Bridge House Hotel excels in making every wedding uniquely tailored to the couple's requests so that their big day meets their wildest expectations. With over 40 years' experience the dedicated wedding team has mastered the art of planning every last detail including eccentric offerings like late-night mini pizzas from Balcone Italiano and a refreshing iced-tea and lemonade bar for summer celebrations, just a few of the features that the hotel can offer to make your big day memorable.
With venues for civil ceremonies, large weddings of up to 350 people and intimate weddings for up to 60 people, the hotel caters for a variety of wedding styles. Larger weddings can be celebrated in the elegant Charleville Suite, while more intimate celebrations can take place in the Egan Suite which can seat up to 60 wedding guests, for the discerning brides looking for vintage glamour they will find just what they are looking for in the stunning Millennium Suite, decorated with gorgeous vintage table settings, Chantilly chairs and delicate décor.
With fantastic wedding packages to suit every budget from the creatively tailored 'Rose Package' for €49.95 per person, the 'Lily Package' for €54.00 per person and the 'Orchid Package' which is available all year round for €60.00 per person and includes a sumptuous five course meal, half bottle of wine with dinner for each guest, a deluxe selection of evening finger food, late bar extension, two complimentary guestrooms and a complimentary wedding car, just a few of the hotel's generous gifts to you and for brides and grooms dreaming of a winter wedding the Snowdrop package, created exclusively for winter weddings with seasonal décor and features creates a dreamy winter wonderland wedding with a 10% discount for selected dates.
Brides-to-be will enjoy a trial make-up session before the big day while bridal parties, including grooms and groomsmen can relax and get ready for a busy day with a morning in Spa & Beauty @ The Bridge House being pampered and preened by the professional and experienced staff. Bridal Bootcamps are also available to ensure the bride is in tip-top shape for her special day with tailored fitness packages from the Bridge House Hotels' fitness team.
Pop by on Sundays between 2pm-6pm to view the Wedding Suites and meet the wedding team who will be there to answer all your questions  big and small! To find out more visit www.bridgehousehoteltullamore.ie or call +353 57 9325600 to speak to the Bridge House Hotel's dedicated Wedding Coordinators.
Testimonials:
From the first moment we approached the Bridge House Hotel to see if they could cater for our wedding we were treated like royalty. Our point of contact was Stella and boy does this girl know her job and aim to please. She does everything in her power to make the day so special and personalized to you. No request goes unnoticed or is too much trouble. All the other staff work together as a team to insure the day goes to plan and put you at ease.
We were complimented from start to finish from our guests about the hotel, one of our guests described it as "the wedding that just keeps on giving" this was down to the hospitality and food made available throughout the whole day and night. No one goes hungry!
While we were having photographs taken nearby, locations which the Bridge House recommended, our guests got to enjoy the drinks reception which everyone is still talking about to this day. The staff are on hand the whole time and it made for such a relaxed atmosphere. The day wouldn't have been as special if it wasn't for Noel, Ger and Stella
Aidan & Úna
I d just like to say a huge thank you to Stella,Caitriona,noel and the staff of the bridge house for all their help in making our wedding day on the 27/02/15 the best day of our lives.the venue,food and atmosphere of the hotel from the start of the day was so friendly and welcoming, and the whole day was relaxing and professional from the beginning to the end. all our guests enjoyed themselves and i d happily recommend the bridge house to anyone in celebrating the biggest day of their lives.
thank you very much
Patricia and Michael