Boylan & Balfe
Boylan & Balfe, County Dublin
Phone: (01) 280 1025
Mobile: Ellie 087 7487277 or Ken 087 2381212
Fax: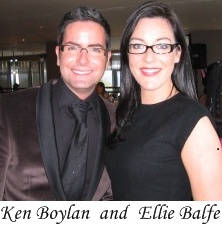 We are Ken Boylan and Ellie Balfe, two of Irelands top makeup artists. We have over 25 years combined experience in makeup for TV, fashion and film. We regularly do the makeup for many Irish and international celebrities including Courteney Cox, Grainne Seoige, Pamela Flood and Victoria Smurfit as well as many beautiful brides and their bridal parties. Our work has appeared on Off The Rails and in many fashion magazines including Image, Tatler and Vogue.
The bridal looks that we design are tailored to suit the individual style of each bride. We know the importance of listening to each person so we can design the best look to make her feel beautiful on the biggest day of her life.
Our makeup looks are always natural yet glamorous, we know that a bride wants to look fresh and pretty not overly made up. The makeup will look perfect for photography and will last for the entire day and night with minimal touching up.
The trial is important for every bride and we take time to offer our advice and design the look using a mix of the best products on the market. We give you a list of the products that we recommend for you to buy in order to maintain the look on the day.
On the day itself you can either come to our studio in central Dublin or we will come to you wherever you choose.
We also do makeup parties and full day makeup courses for the Hen celebrations.
Contact This Supplier
Areas Served By This Supplier
Boylan & Balfe serves:
Antrim
,
Armagh
,
Carlow
,
Cavan
,
Clare
,
Cork
,
Derry
,
Donegal
,
Down
,
Dublin
,
Fermanagh
,
Galway
,
Kerry
,
Kildare
,
Kilkenny
,
Laois
,
Leitrim
,
Limerick
,
Longford
,
Louth
,
Mayo
,
Meath
,
Monaghan
,
Offaly
,
Roscommon
,
Sligo
,
Tipperary
,
Tyrone
,
Waterford
,
Westmeath
,
Wexford
,
Wicklow