Annebrook House Hotel
Annebrook House Hotel, Austin Friar Street, Mullingar, Co. Westmeath
Phone: 044 9353300
Mobile:
Fax: 044 9353333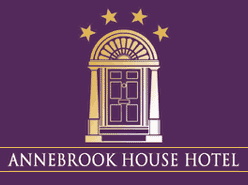 For every small detail, a careful thought….Behind every careful thought a member of the Annebrook House Hotel Wedding team ensures that your special day is a truly memorable occasion.
Uniquely combining Old World charm with modern sophistication, the Annebrook House Hotel provides the perfect backdrop for your wedding day.
As a family run hotel we pride ourselves on looking after you at every step of your wedding journey. Our experience and dedication is reflected in the standard of service, quality of food, ambience created – essentially bringing together all of the main ingredients to celebrate your marriage and begin your new lives together.
Whether you want to arrive by horse-drawn carriage or a Traditional Vintage Car, there is only one hotel in the Midlands who can accommodate all your wedding day wishes. The Annebrook House Hotel has much to offer wedding parties seeking something unique and memorable and you can rest assured that your reception will be catered for with elegance and style – making your big day really special.
No doubt, at this stage you probably have many questions and ideas about your wedding day. At the Annebrook House we are dedicated to making your wedding day a success. Our wedding specialists are here to support and advise you, put your mind at rest and to make sure all the important details of your wedding are taken care of for your special day. We would encourage you to ask as many questions as possible in the lead up to the event.
On arrival at the Annebrook wedding parties are treated to the beauty of the Old House for their arrival reception, so they can relax and unwind before the celebrations continue.
Our main banqueting suite, Edgeworth Suite, has been stylishly designed with all the classic looks you would expect and the room is poised to receive good company and fine cuisine – The Edgeworth Suite can accommodate numbers from 50 – 300 guests. The Edgeworth Suite is much sought after by wedding parties and this unique venue will make a profound impression on all your guests!
For your first night as husband and wife, the Bridal Suite is the very essence of luxury and prestige and the perfect start to your honeymoon. The hotel boasts 111 bedrooms, so all your wedding guests can be easily accommodated in comfort and style.
The Annebrook House Hotel has the facilities to hold civil ceremonies, we were the first venue in the midlands to hold a wedding of this nature. The Barlow Suite, which is located in the original Annebrook House, has been restored to its former Georgian Glory and thus provides the perfect backdrop for those all important moments. The Barlow Suite can accommodate up to 70 guests.
Our comprehensive wedding package includes:
*Dedicated Wedding Specialists to liaise with for your special day.
*Only one wedding a day
*Red Carpet welcome in the stunning old house
*Complimentary Glass of Champagne on arrival for the Bridal party
*Complimentary Tea/Coffee & Biscuits on arrival for your guests
*Complimentary linen chair covers and chameleon bows
*Souvenir Personalised menu cards
*Silver cake stand and knife
*Complimentary banqueting suite for your reception
*Sample your chosen menu in our 'Brook Restaurant' prior to your Big Day
*Vegetarian Options Available
*Options to have choice of two main courses
*Fresh Flowers for each table
*Champagne Breakfast served to the Honeymoon Suite the following morning
*Special accommodation rates for your guests
*Special Packages also available for mid-week and winter weddings
Please contact reception for further information
Contact This Supplier
Areas Served By This Supplier
Annebrook House Hotel serves:
Westmeath