All Bar None Events Ltd.
All Bar None Events Ltd., 7 Meath Place, Dublin 8
Phone: + 353 1 4533025
Mobile: + 353 86 3641487
Fax: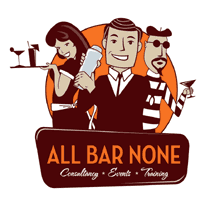 We have recently invested in a state of the art mobile cocktail bar system from the guys at Cantilever in the UK. Cantilever have designed many of London's Top style Bars are synonymous with Mixologist for designing some of the most workable bars in the world.
They are the only mobile bars with fully functioning cocktail stations available to rent in Ireland. This allows us to provide our clients with menus that could only before be found in permanent established bars.
The Bar is finished to a very high standard with matt black front panels and a stainless steal counters. It is also fitted with under counter lighting which comes in a range of colours. We chose the bar because of the quality build and design but also because it can compliment a range of venues and if needs be easily dressed to suit the style of event. mobile bar
We have several sizes and shapes depending on space and the volume you wish to serve:
* 2m Straight Bar
* 4m Straight Bar
* 6m Straight Bar
* 8m Straight Bar
* 3.5m Horseshoe Bar
Corner units and back bar units are also available.
Complete package starts at â' ¬1600 inc. VAT.
All Bar None's Punch Menu
Cosmopolitan
Skyy Vodka, Patron Citronge, cranberry juice & lime juice.
Classic Rum Punch
Matusalem Solera 7, Clasico 15 year Old Rum and Triple Sec mixed with orange, pineapple and mango juice. Served with fresh lime juice, sugar and Angostura Bitters.
Sangria
All Bar None's secret Sangria recipe is guaranteed to add some Latin sole to your night.
Elderflower Punch
St Germain Elderflower Liqueur, Martin Miller's Gin, lemon juice and sugar mixed with pressed apple juice and soda.
Homemade Lemonade
Our own lemonade recipe made with fresh lemon juice served perfectly sweetened and laced with lots and lots of Skyy Vodka.
Beer Bath
Now here is something never before seen at a party. All Bar None's Baths of Beer. We will deliver a free standing victorian slipper bath to your house complete with 192 bottles of ice cold beer. Fill the bath with beer and lots of ice, all provided, and get stuck in.
â' ¬500 inc. VAT.
VIP Bath
Feeling like treating yourself? Instead of beer, fill your bath with 36 bottles of Tattinger N.V Champagne. We will provide you with all the glass wear and waitress for the evening.
â' ¬2500 inc. VAT.
Contact This Supplier
Areas Served By This Supplier
All Bar None Events Ltd. serves:
Antrim
,
Armagh
,
Carlow
,
Cavan
,
Clare
,
Cork
,
Derry
,
Donegal
,
Down
,
Dublin
,
Fermanagh
,
Galway
,
Kerry
,
Kildare
,
Kilkenny
,
Laois
,
Leitrim
,
Limerick
,
Longford
,
Louth
,
Mayo
,
Meath
,
Monaghan
,
Offaly
,
Roscommon
,
Sligo
,
Tipperary
,
Tyrone
,
Waterford
,
Westmeath
,
Wexford
,
Wicklow