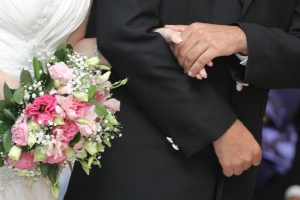 Flowers are a must-have for every wedding. You may want the more expensive kinds of flowers but simply may not have the means to get them as you may be planning your wedding on a shoe-string budget. Fortunately, it is possible to save on costs while at the same time creating a picture perfect wedding scenario, complete with beautiful flowers.
The first thing to remember when selecting flowers for your wedding is to choose those that are currently in season. These will obviously be far cheaper and more readily available than the flowers that are out of season at the time of your wedding. You will also find that seasonal flowers tend to reflect the colors of that particular season as well. In spring, you are likely to find a lot of pastels, while summer will dazzle you with the bolder primary colors. In the fall, expect to find the reds, gold and purples, while winter should present a lot of flowers in red and white.
You might wish to opt for the flowers that are available all year round and at pocket friendly prices such as the roses, carnations, and chrysanthemums. Remember flower prices tend to go up around Mother's Day and Valentines Day, so keep this in mind when selecting your flowers.
There is a host of online websites from which you may order your flowers at close to wholesale prices. You will find that most wholesalers tend to sell their flowers while they are in a tightly budded stage, so have them delivered a few days before the wedding such that they may open up in a warm, lit area. Ensure that you water the flowers by placing them in buckets so they can open up on time for your wedding.
To further save on costs, you might want to instead opt for an outdoor wedding at say a botanical garden. This will provide you with the natural foliage and flowers as your backdrop and you will not have to again add more flowers. If your wedding party is going to be small, you will not need too many flower arrangements either. This is because your location will be small as well and require minimal decorations.
You may also opt for potted plants instead of the traditional cut flowers for you wedding arrangements. If you are going for a western themed wedding, you could opt for cacti which may be dug up and potted for your big day, and thereafter be used for your home decor. You could also opt for potted African violets for your purple themed wedding. If your wedding will take place in summer or spring, you may want to buy flowering plants from a plant nursery. You should get a variety of types and colors to choose from.
Have your bridal bouquet tied together with a ribbon instead of wiring it. Or you may instead opt to go for exotic blooms such as calla lilies or orchids and just march down the isle with a single stem.