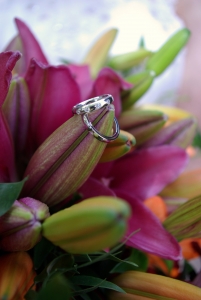 You are already engaged, the plans are set, the wheels are in motion and everything is coming together. Soon you will be one half of a "Mr & Mrs." But before you get ahead of yourself, take a step back to the actual part where you tell your partner your intentions and make your vows. You've agreed to write your own vows but now that you've actually sat down to do that, nothing is happening. What do you say to the person you plan to spend the rest of your life with on this most important of days?
Well, you've never had a problem saying anything to him before, so what's different now? All eyes are on you and you are under pressure! All your invited guests are standing by, waiting to hear the vows exchanged. You're loved one is looking lovingly, if somewhat expectantly, into your eyes. All of these people are waiting to hear a wonderful, heartfelt, pull at the heartstrings, romantic spill about your love for the Groom. Just thinking about all those people watching and waiting can be suffocating.
Focus on Your Partner
Decide exactly what it is you want to tell your partner on your wedding day. When you're thinking about it, don't think about all the other people that will be there with you, think of it as just the two of you. Tell your partner what it is that makes him or her so special to you. Explain how your life has changed since meeting them. Perhaps you could share about when you first knew you were in love or when you knew you wanted to spend the rest of your life with them. Maybe you could share something about what you miss the most when they aren't around. What is it that makes your partner so perfect for you? Is it her smile first thing in the morning, coming home to him after a long, bad day at the office, how she makes your coffee for you first thing in the morning? Sometimes the simplest things can be the most touching and powerful.
Write Vows that Reflect Who You Are
Make your promises unique to the two of you. So many couples promise to love each other for eternity. But wouldn't it be more meaningful and show that you've actually thought about it if you promise things that are unique to your relationship? Let's say, she got drunk at the work Christmas party and confessed for the first time that she was in love with you. You drove her home and carried her upstairs and put her, passed out, to bed. You could promise to always put her to bed when she's had too much to drink. It may not have all that much significance to the guests that don't know the story behind the promise but the person that matters will understand.
Keep it Short and Sweet
Keep it reasonably short and to the point. You have your whole lives ahead of you to tell each other how you feel. Tell your partner the most important and save the rest for later. No matter how sweet and romantic your words may be, if the vows take more than a minute, your guests will get fidgety.