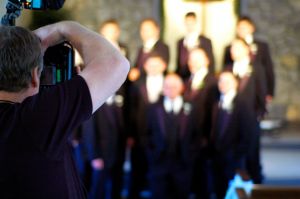 Aside from your wedding dress and your hair and makeup, what you need to look great in photos is a beaming smile. Having a genuine smile in photos can be harder to achieve than you may think. This takes a lot of happy thoughts, and most importantly, a great tandem between you and the photographer.
Below are some top tips on how you can look amazing in photos with the right wedding photographer:
1. Remember to schedule your engagement photos early, as newspapers in larger cities may take longer to publish photos than in smaller cities. It is also important to know the theme of your engagement photos. These days, engagement photo sessions are becoming more and more creative. So make sure you know what mood or atmosphere you want to reflect in your photos.
2. Tell your photographer what your "must-have" pictures are. Show them the poses that you like and with whom you want to take more pictures with on your wedding day.
3. Make sure give your photographer an invitation. Not only is this a reflection of good manners but also a better way of letting them know where the wedding location is and what time it is going to start. Remind them to arrive to the location an hour early so they can take pictures of the small details of the wedding, and pictures of the bride, groom and entourage preparing for the event.
4. Send your photographer your wedding planner's contact details. The wedding planner should contact you for any changes or plans for the wedding day itself. Do not forget to ensure them of a parking space for the big day.
5. Make sure that your photographer will be allotted some time during the ceremony and the reception to take pictures of you with your guests.