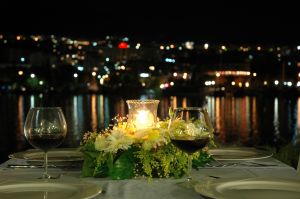 A rehearsal dinner is a pre-wedding ceremony that is generally held after the wedding rehearsal and the night before the wedding ceremony. Although the rehearsal dinner is not an "official" wedding event, it is considered to be a valuable preparation step. Wedding preparation can be stressful and it is the time where the couple and their family members can loosen up, relax and talk before the actual wedding takes place.
The rehearsal dinner is shouldered by the groom's parents by tradition. However, anyone may plan, prepare, and host the dinner. It can be shouldered by both of couples parents, the bride's parents or even a close relative or a friend. However, who sponsors the dinner isn't really important. The main purpose of the event is to talk, relax and be informed about what will happen during the ceremony.
Aside from the bride and the groom and their direct families, the guest list for the rehearsal dinner usually includes the grandparents and other family members, wedding entourage, wedding organizer, the pastor, or priest or anyone who will be performing the ceremony, the closest friends and out of town guests. All guests generally receive some sort of invitation, although it doesn't have to be a formal invitation. A simple phone call is often enough.
Rehearsal dinners are usually held at the home of the host, a restaurant with a VIP room, a private club, or a small area at the reception site. It can be a formal dinner or a more casual one. Informal, causal dinners are more popular because it gives everybody an opportunity to kick back and relax, to give toasts and thank everyone involved in the wedding.