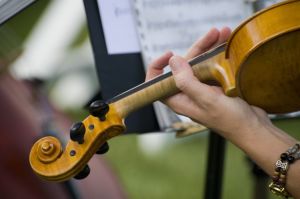 Music plays an integral part in a wedding. Having the right wedding music can make your wedding more special and beautiful. That's why making a list of songs for your wedding is very important.
You may think that making a list of songs is easy, but it actually is a bit of a mission, as there are so many songs to choose from. To help you with this, here are some tips.
What kind of mood do you want to have?

Our choice of music can affect our mood and emotions. So, it is important that you consider the type of atmosphere you'd like to have on your wedding day. Think about the songs to be played at the wedding ceremony site as they wait for the ceremony to start.
What song would you like to be played as you walk down the aisle?

Of course, you also need to carefully choose what song you would like to be played as you walk down the aisle. The Pachelbel Canon in D is a very popular choice among brides as it is very beautiful and timeless. If you want something more unique, you could choose a modern song that would fit the atmosphere of the wedding.
Think Out Of The Box

If you want to add more drama to your wedding, you may want to hire a band. Hiring a band for your wedding reception is the perfect choice for couples that want everyone to have fun and dance on their wedding date. You could also hire a string quartet if you want a more solemn, romantic atmosphere.
Take Your Budget Into Consideration

Just like in any wedding detail, you need to consider how much you're willing to spend for it. If you cannot afford to hire a band, a singer or a string quartet, it wouldn't be a big problem, as you can always have your songs played during the reception by a DJ.