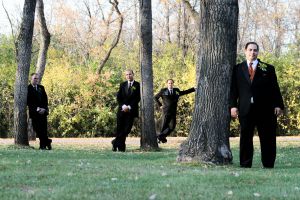 If your friend or family member has asked you to be an usher for their wedding, keep in mind that there are responsibilities that come with it. Below is a timeline of the wedding preparation and the wedding itself and the tasks that you are expected to do as an usher.
Four months before the wedding:

Help out with the purchase or the hire of the wedding suits. Make sure to know who will be paying for them. Ideally, the suits for all the groomsmen will be sorted out along with the suit of the groom.
The week before the wedding:

Make sure that the transport of the guests and entourage has been confirmed and finalised.
The best man and the ushers should have a copy of the family and friends who need to be ushered and escorted to their respective seat.
Attend the wedding rehearsal, as this will give you an idea of what the wedding will be like- the seating arrangement, program, etc.
Make sure that you look good for the big day. Shave and get a haircut.
The day before the wedding:
Collect the hired clothing and accessories for the wedding. Make sure that everything is complete.
On the day of the wedding:

Arrive at the ceremony venue at least 20 minutes before the guests arrive. You will need to be there and escort them to their seats.
At the Church/Ceremony Venue:

Check out the parking space and make sure that you give directions to the guests as to where they can park their car.
Find alternative parking areas just in case the closest parking lot is full.
Greet the guests with a smile and hand them their buttonholes, order of service sheets and maps showing them the route to the reception venue.
Make sure that all the guests have transport to the reception.