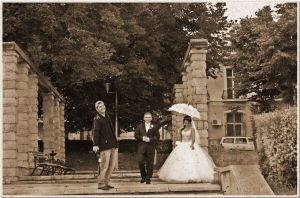 Your wedding is one of the biggest moments of your life, and what better way to preserve that moment than through a wedding video. Recording your wedding will let you, your family and your friends spend countless nights reliving the joy and excitement of the most special day of your lives by simply pressing a button on your remote control.
Getting a professional wedding videographer ensures you that every moment, every emotion is captured and preserved in your wedding video. That's why it's very important to find the best for the job. The easiest way to find a reliable wedding videographer is through your wedding planner. Wedding planners often recommend wedding videographers that provide consistently good quality work for their clients.
However, you shouldn't just depend on your wedding planner's recommendation. In order to get exactly what you want, you need to do a little research on your potential wedding videographers. Here are a few things you need to consider before hiring a videographer for your special day:
- Always check their portfolio. A videographer's portfolio not only shows the quality of their work, it also shows their style, skill and aesthetics.
- Research on the equipment that they use and compare it with the equipment of other videographers. You'd want videographers that have the best digital cameras to provide the best quality image.
- How many cameras would they be using? It's better to have more than one camera but if you're on a budget, you'd have to make sure whether they charge extra for the extra camera and camera man.
- Are they using wireless microphones? Wedding videos aren't just about images. Wedding videographers should have wireless microphones to record the wedding vows and messages without the ambient noise.
- Do they have the appropriate attire for the wedding? They do need to be comfortable in order to work but they should have something better than jeans and a t-shirt, especially for formal weddings.
- Can your videographer work without being obtrusive? A good videographer should be able to catch all the action even while staying on the sidelines.
- Some wedding videographers have several packages for couples on a budget. With a little bit of research, you'll surely find a package that would give you what you want and still stay within your wedding budget.