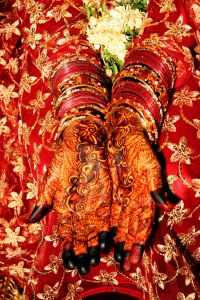 Although a lot of couples getting married these days do not really stand on tradition, there are those that want to adhere to family traditions they may have been passed down through the family from one generation to the next.
So do you have family traditions that you would like to follow in your wedding ceremony?   If you are just starting to plan you wedding, here is a list of traditions that have come through the ages, some of which may hold a special interest to you.
Traditions:
It is bad luck for the groom to see the bride on the wedding day until the ceremony
The bride should wear something old, something new; something borrowed, something blue
The bride should wear a veil as it will protect her and hide her from evil spirits that love to attend wedding ceremonies
Flowers for the ceremony should be chosen not just according to personal preference. Every flower symbolizes something different and the significance of the flower should be taken into consideration before being chosen for the ceremony
Wearing white symbolized maidenhood and could only be worn by first-time brides
While weddings today are commonly held on Saturdays for reasons of convenience, in olden days, it used to be considered bad luck to get married on a Saturday.
The wedding cake had to be cut by the bridal couple together at the reception
The groom carried his bride across the threshold to enter their new home
The Best Man is suppose to protect the groom from bad luck
Bridesmaid are dressed similar to the bride to mislead evil spirits
It is said to be bad luck if the bride makes her own wedding dress
Whoever makes the first purchase after they are married is said to be the dominant of the couple.
For more details on these traditions and more, take a look over the internet. You will find several websites with an explanation of each of these traditions including why they started and what they signify.   You will also find rhymes that accompany a lot of these traditions.   Most everyone knows the rhymes that starts with, "Something old, something new, something borrowed, something blue and a sixpence of silver in your shoe."   This one originated in Victorian times, but could be older.
As far as the honeymoon goes, the word itself is said to have originates from when the groom captured his bride and they hide from her parents until after the wedding.   They would continue to hide for the cycle after the wedding and during this time, they drank honey wine.
Some of the traditions date back to medieval times and some could be even older.   While some are traditions that are followed by couples all over the world, some could be just family traditions that are carried down the generations. If you are planning your wedding, talk to your grandparents or aunts and uncles to see if there are any traditions that you would like to include in your ceremony.   It will make the day more memorable for you and will evoke poignant memories of earlier family weddings among the older generation. And who knows in eighteen or twenty years you may be given the same information to your son or daughter to use in their own ceremony and create many more family memories.