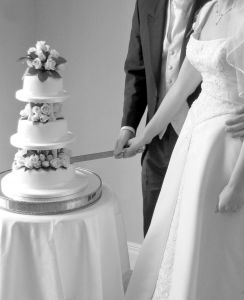 Select A Personal Wedding Theme
Many couples elect to have a theme for their wedding. You can select any theme you like, from something silly to something traditional. You could plan your wedding around the simple theme of your favourite colour or something as exotic as your honeymoon destination. Themes make weddings more interesting and they keep planning simple and cohesive. Choose a theme that can be used in your invitations, bridal showers, ceremony, and reception.
You could choose a theme based on almost anything you like. There are no rules or etiquette stipulations when choosing your theme, so you are totally unlimited in your creativity. You could have a fairytale theme, a birds, animals or insect theme, themes relating to your heritage or place of birth, celestial themes, a historic/vintage theme, a gothic theme, a sports related theme, or a theme based on your personal love story.
Consider Seasonal Themes
Seasonal themes make planning simple and can help keep decorating costs to a minimum. For example, a summer wedding could involve a beach theme where the groomsmen wear Hawaiian shirts and the bridesmaids wear floral skirts and crisp, linen tops. A winter wedding could involve snow or even be based on the Christmas holidays.
Choose a Theme that Reflects Who You Are
Consider choosing a theme that reflects the personalities of both you and your groom. If you both love riding horses, then use that as a foundation for your theme. Maybe you could get married in a field of wildflowers and ride off into the sunset on horseback at the close of the ceremony. If you both enjoy sports, use the colours from your favourite teams to create a theme. If you like opposing teams, blend the two colours for a unique style and colour scheme that compliments who you are as individuals.
Get Guests Involved in Themed Celebrations
Get your guests involved in the theme to make your wedding day extra special. For instance, if you decide to have a vintage theme, ask your guests to come dressed in vintage attire. If you are having a sports related theme, you could ask guests to wear the colours of their favourite team. You could also do this for a formal theme, by stating that the ceremony will be a "black tie" event on the invitations. Give guests clues to your theme through the invitation and your bridal showers. You should never assume that guests know what to wear to your wedding. Give them a few ideas about your big day so they will dress appropriately and feel comfortable at your wedding celebration.
Make sure you keep your theme cost effective for both you and your guests. If you live in an area where formal events are rare, it might be unreasonable to ask your guests to come dressed for a "black tie" event. If you want to have a destination-themed wedding, it won't be feasible for dozens of people to fly to the Bahamas to watch you exchange vows. Instead, choose a theme that suits everyone's style and budget. Your theme will be the backbone of every aspect of your planning process, so choose a theme early to get a head start on planning your big day.