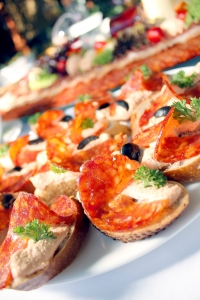 When we look back at weddings we've attended, there are certain aspects of each wedding that make us remember it. It could be the speeches, the guests, the wedding theme, or the food that was served. Food is an important element in weddings and depending on where you are in the world, weddings are a great occasion to enjoy it. Below are some popular wedding foods from different parts of the globe.
England
Although it's more popular during Christmas, the fruitcake is also a common choice among couples when it comes to wedding cakes. Because fruitcakes last a long time, it's a wonderful choice for wedding cakes. Fruitcake is usually placed on the top layer of the wedding cake and saved for the couple first anniversary. Kate Middleton and Prince William served fruitcake on their wedding reception.
Greece

In Greek weddings, bread is as important as the wedding cake. Traditionally, the mother of the bride or groom would hold a piece of sourdough bread over the couple's heads and then cut it in half. This tradition is done at the house entrance where the newlywed couple would have their home and have a family. This custom also symbolizes the couple's equal skills and abilities to overcome challenges.
Morocco
In Moroccan weddings, fish and chicken are often served, as they are symbols of fertility. They also serve tajine, which is a chicken stew that's mixed with almonds, apricots, onions and other spices and served with pita bread.
Italy
Italians love meat and this is evident in the food they serve at weddings. They usually prepare a roasted baby pig or lamb with wanda, which are bow ties of fried dough dipped in powdered sugar. Women drink Marsala wine while the men enjoy the much stronger grappa. They also serve sugar-coated almonds for confetti.