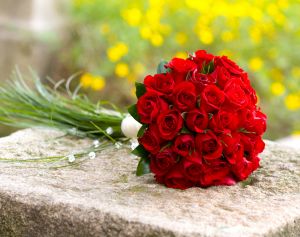 Flowers are one of the most essential aspects of your wedding.   They are able to transform an empty, dull space into something more magical and beautiful.   Flowers are also a great way to show our feelings without having to express them in words.   Did you know that every flower holds a special meaning? If you're interested to know what your choice of wedding flowers means, then read on.
Magnolia
Magnolia symbolizes love of nature. This flower is best for arrangements and is perfect for a spring and summer wedding.   Magnolias are quite common in Southern-style weddings as a lot of magnolia trees abound in the South.
Rose
Rose symbolizes passion, love and beauty. This flower is the most popular choice for weddings because they can be used for bouquets, corsages and arrangements. Roses are also available all-year-round, which makes them very easy to find.
Baby's Breath
Baby's breath means innocence. Baby's breath also complements almost any kind of flower, so it's wonderful filler in bouquets and corsages.
Calla Lily
Calla Lily signifies magnificence and beauty.   This tropical flower can be a bit expensive especially when not in season. If you're having spring or summer wedding, this flower is the perfect choice!
Chrysanthemum or Mum
 Chrysanthemum means wealth and abundance. They have varied sizes and colours depending on their variety. Mums are best for bouquets and arrangements.  They are always in season and are very affordable.
Lily of the Valley
Lily of the Valley signifies happiness, or more specifically, the return to happiness. This small, bell-shaped flower has a sweet scent, which makes it another popular choice among brides.   This flower is also considered a traditional wedding flower.
Tulip
Tulip signifies undying love.   This is a wonderful way to express your love for your future husband. Tulips are a great choice for a spring wedding.