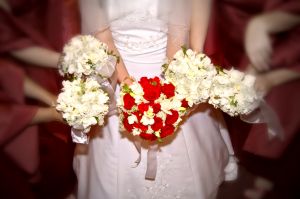 Beautiful Wedding Flower Trends

If there is one factor that can truly capture the romance of weddings with sensuous scents and beauty, it is the choice of flowers. Not only do flowers make for gorgeous decorations, they also set a mood and make a statement about the couple about to be wed.
Ever since the dawn of time, different flowers have been used to signify different emotions. For instance, roses have long symbolized true romantic love between two people. Flowers and greenery have long been used as ornamentations for gardens, churches, parks, and homes, where couples are wed.
The Bride's Bouquet

The primary floral focus of the bride is her bridal bouquet. Since bouquet rules are no longer as strict as they used to be, brides are practically free to dream up any arrangement that they wish. The flowers in the bridal bouquet do not necessarily need to be white or cream, though pale flowers are still a favorite choice as they do mesh well with the overall spirit of weddings.
Fall weddings call for bolder colours including deep rusts and golds. Poinsettias and red roses are favourites for use in holiday weddings.
One modern trend that looks both graceful and unpretentious is to hand-tie several roses of the same colour with a ribbon. This look is simple yet sophisticated and has been a widely-used trend in recent years.
An herb bouquet is another option. Herb bouquets contain flowers, as well as lemon balm, sage, lavender, orchids, twigs and rosemary, giving the bouquet a pleasant smell and turning it into a wonderful keepsake.
Coordinating the Flowers with the Gown
Professionals state that the choice of wedding bouquets should largely depend on the style of the bride's gown. If you are planning on wearing a Victorian-inspired dress with white lace, you may want to carry a traditional collection of violets and sweetheart roses down the aisle. If your wedding gown is more country-style you may want to carry a more casual bouquet of daisies and wildflowers. The most formal and classic bouquets, though, are those that are completely white, which also look great when mixed with a bit of ivy or fern. Also, the size of the bouquet should be proportionate to the overall look. Having a large bouquet may clutter and overpower the bride's look; this is never a good thing.
It would be premature to choose flowers way in advance. Florists believe that deciding on flowers too early during the planning period is ill-advised since the bride will be attending other weddings and may see various wedding publications during this time. Also, there may be a change in colour schemes and ideas, so this could ultimately only lead to confusion. Keep in mind that florists find it very useful when brides bring in photographs of their ideal floral arrangements, along with fabric samples of the wedding dresses.
Traditionally, every person in the bridal group wears flower styles or corsages that match the wedding's overall theme and the bridal bouquet. The flowers of the bridesmaids should never up-stage those of the bride, though the maid of honour will typically have more distinct arrangement compared to the bridesmaids.