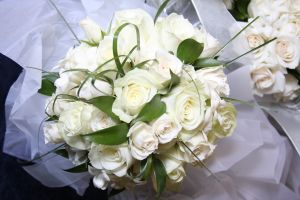 Flowers evoke emotions and uplift our moods with their immense beauty and wonderful colors. The presence of flowers at ceremony and reception sites further makes any wedding an extra special day.
Bouquets
The flowers that get the most attention on your wedding day would be your bouquet. Before, flower colors were limited to white or cream as these colors draw more attention to the bride. However, florists and brides-to-be have become bolder in their choses of flower colors these days. For holiday weddings, some brides choose red roses or poinsettias. Some also choose to mix and match different colored flowers in one bouquet, making it more interesting and still elegant.   One trend that's becoming popular these days is the herb bouquet. An herb bouquet consists of flowers, twigs and herbs like sage, rosemary and lavender. It smells and looks wonderful. Plus, it can also be a great keepsake.
Bouquets can be arranged in different ways depending on your dress, body type and/or personality. For vintage dresses, you might want to select a bunch of sweetheart roses and violets for the bouquet. If you are having a Southern style wedding, you could choose a bouquet of wildflowers and daisies.
Wedding Ceremony and Reception Flowers
Another common trend in wedding flowers is to have the ceremony site, as well as the reception site adorned in beautiful blossoms.   Ceremonies usually last for just about an hour and half, so it is recommended that the flowers used for that site be reused for the wedding reception.  It would be a waste throw away flowers that are still fresh when they can still be rearranged and used to decorate doors, tables or stages
Popular Flowers
Each kind of flower has its own desirable quality and meaning. For example, baby's breath signifies innocence or purity, while gardenias mean joy. Choose a flower that not only matches the theme of your wedding, but also has subliminal meanings or qualities that suit your own personality.