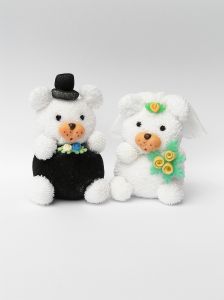 Wedding favors have become a part of wedding reception planning. The tokens that you give to your guests are your way of expressing gratitude and appreciation for having them take the time off from their busy schedules to attend your wedding.
Distributing wedding favors is a very old tradition. Sugar cubes or confections were placed in trinket boxes and given to guests by the newlywed couple not only as gifts but also to signify their wealth. As sugar became more affordable throughout the centuries, confections were replaced with almonds. Now, wedding favors are not limited to sweets and confections anymore.
Choosing the right wedding favors can be tough as there are so many gifts to choose from. To make things easier, it is best to consider the following factors:
Season
In what season will you wedding take place?   If you are getting married during the Christmas season, you may want to distribute Christmas-related items such as holiday sachet ornaments or snowflake candleholders.
Budget
How much are you willing to spend on your wedding favors?   If you are on a small budget, choose gifts that are affordable like DIY hot cocoa cones or tea bags.
Buy inexpensive items and have them wrapped beautifully. Remember the presentation counts a lot, too.
Personality
You might also want to reflect your character and personality through your choice of wedding gifts. If you love gardening, you could give your guests some seed packets of your favorite flower's seeds.
Below is a list of popular wedding favors:
CDs with the favorite music of the bride and groom
Picture frames with the picture of the couple
Shot glasses with colored candy and chocolates
Vases
Cookies
Magnets   with the couple's engagement photo
Wine Glasses
Bag of Almonds
Scented Oils
Seasonal or Holiday Item
Cigars
Scented Soaps
Ceramic Doves or Angels
Customised Fans
Personalised Cocoa Packs
Outdoor Lanterns
Personalised Tea Sachets
Luggage Tags
Bookmarks
Lipbalms
Creative Card Holders
Keychains
Salt and Pepper Shakers
Bottle Stopper
Figurines