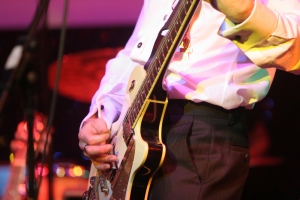 When it comes to weddings, the overall costs are a major concern for most people, as they really should be. With food, gowns, tuxes and photographers to worry about, how can you reduce your budget when it comes to entertainment?
Appropriate Ways to Save Money
Naturally, you should not think about getting your food from a fast food place. But there is no need to serve lobster and steak, either. People don't tend to remember what they ate anywhere around half a year after they've come and gone to the event, so don't splurge too much on the food. Standard dinners like chicken, fish, or roast beef should be completely fine.
Fancy dresses and top-notch tuxedos are sure to look great in all of your pictures, that is true, but who says you can't simply rent tuxedos (and gowns, if you wish)? This will save you a lot of money and chances are, you won't ever wear that gown a second time.
If you want great photographs for future memories of your wedding, you will want to get a great photographer. If you don't have one, your pictures won't be too great, either. Remember that your wedding albums will be around for a lifetime and people will want to see these photos, most of all if they weren't there to attend, so this is something you will want to invest some good money in.
Entertainment is Important!
Then, there is the entertainment, which is usually the last thing that couples think about and also the one thing where couples try to find the best bargains. What you may not realize is that eighty percent of your wedding's success relies solely on your wedding entertainment!
Think about it: if there is no entertainment, your wedding guests will start leaving right after they eat. However, if you didn't have food but had entertainment, your wedding guests would probably still stay a bit longer. Naturally, both are needed, but how can you balance them out? Your wedding guests can actually be satisfied with veggie platters and hors d'oeuvres alone. They can also be satisfied with regular decent meals. What is in the meal isn't too important; what matters is that it tastes great and that there is enough of it to fill them up.
What your wedding guests are there for (or should be there for, at least) is to celebrate your union, take part in it, and share it with you. Because of this, entertainment is utterly important in keeping your wedding fun, festive, and full of smiles. In fact, even if the food turns out to be horrible, good entertainment can always save the day.
When it comes to entertainment, the usual two choices are disc jockey and live bands. Which one you choose solely depends on your personal preference. Some couples prefer live sounds while others prefer the sounds of original artists. No matter which you prefer; it is important to remember that there are good and bad bands out there, as well as good and bad DJs. And, as with food, the quality hugely depends on the price. Naturally, it will pay off to hire professionals since you will get your money's worth in the long run. Just keep in mind that your guests are there for the fun, not the food!