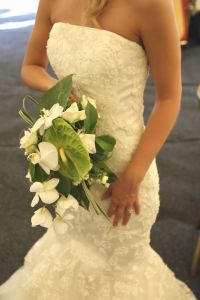 For brides-to-be, the wedding gown is one of the most important details in the wedding. Every bride wants to look radiant and beautiful on her wedding day. While some women already have their wedding dress in mind as early as they were kids, others seem to be confused on what bridal gown to choose. With so many styles and designs, it is of course understandable that some women really have a hard time choosing the perfect dress. So, here are some tips to help you select the right gown:
Know Your Body Type
Knowing your body type will help you narrow down your wedding dress options. If you are petite, avoid wearing a ball gown, as this will only make you look smaller. If you have an hourglass figure, choose a gown that emphasizes your waist and your bust.   If you have toned arms and beautiful broad shoulders, wear a halter dress.
Take Your Budget Into Consideration
Consider your budget when choosing your wedding dress. If the dress you like is way too expensive, do not fret. You can also find a dressmaker that can create a similar dress for a much more affordable price.
Visit Bridal Boutiques
If you have been to too many boutiques, tried on too many dresses and still haven't found anything you like, you might want to ask them to design your wedding dress. Some bridal boutiques design their gowns and have their own designer. With their designer, discuss what style or type fabric you like. They may offer you assistance with selecting the right color and fabric that suit you.
Embellishments
There are some brides who want their dress to be filled or embellished with anything that glistens. You can visit a local bead supplier who can help you choose the right beads or crystals for your dress. There are a lot of Swarovski crystals and colors to choose from, so it's best to ask for advice from bead experts. You can show the crystals and beads to your bridal designer and they will then purchase the crystals. You must be aware though that beading may incur extra cost as they are sewn individually by hand.