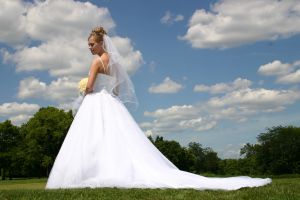 Here are some more tips on how to find the wedding dress that's perfect for you.
Body Shape
What are your best features? What are some parts of your body that you're not comfortable showing? If you're not sure what your body shape is and what type of clothing matches your body, try on dresses of different shapes.
The Silhouette
Determining the right silhouette for your body shape is important. If you're petite, choose a column dress with a modified A-line skirt to get a less full look. If you're pear-shaped, the ball gown shape is best for you. Usually, ballgowns are matched with a fitted bodice or a corset that draws the people's eyes to your waist up. If you have an hourglass figure, choose the mermaid dress as it will surely accentuate   your curves.
Sleeves
Not all of us are blessed with beautiful, toned arms, so you shouldn't be pressured into wearing a strapless dress. Kate Middleton, on her wedding day, wowed everyone with her long and lacy sleeves. Make sure to a dress to what you're comfortable with.
Necklines
To draw attention to your upper body, choose a neckline that's right for you. Some of your choices would be: scooped necks, haltered, V-Neck, square, asymmetric and strapless.   Strapless dresses are still the most popular choice for brides-to-be since they're sexy and classy. If you have a large bust, choose a V-neck style.
Trains
Trains come in different lengths and sizes. There's the duster train, which is about 50cm long. There's also the puddle train that is often paired with a column dress or a mermaid dress. This train is round and is attached to the sides of the skirt. The chapel length train is about a meter long, while the cathedral length is about two meters long. Find a train that matches your dress and make sure you're comfortable wearing it all day long. You could also opt for a detachable train. You can detach it once you're done with the pictorials and official ceremony
Veils
Another accessory you need to include is the veil. Veils also come in different shapes and sizes and can have one to three layers.