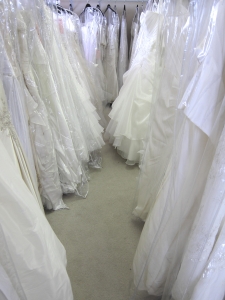 Now that you're engaged, it's time to choose your wedding dress! Choosing the perfect dress can be quite difficult as there are so many styles to choose from. Here are my tips on how you can find the right wedding dress for you.
Choose the Type of Dress You Want
Choosing the dress you want may depend on what your wedding theme or style is. Is it going to be a grand church wedding, a simple civil ceremony, a beach wedding, or an intimate church wedding?It is okay if you decide to deviate from your wedding theme, though. After all, it is your wedding. It would also be good to ask your fiance as to what style he likes or dislikes.
It Doesn't Have to be White
There are no rules as to what color your wedding dress should be. I had a friend who walked down the aisle wearing a Spanish red ballgown and wowed everyone. You are given a choice to choose the color you want. These days, most women choose an off-white or ivory shade over a pure white dress since the latter can be easily ruined or stained.
Fabrics
There are many fabrics that you can choose from- chiffon, crepe, satin, silk,etc. All of these fabrics are perfect depending on the season. If you're getting married in the summer, avoid using heavy fabrics. Also, choose fabrics that are comfortable for you. You will be wearing it all day, so you want it to look and feel great.
Embellishment
You can also add some decoration on your dress. If you want to add some shine onto your dress, you could have crystals on it. Another popular decoration is beadwork. You may want the beads or crystals to be of the same color as the dress. However, if you're on the wild side, you can choose contrasting colors.