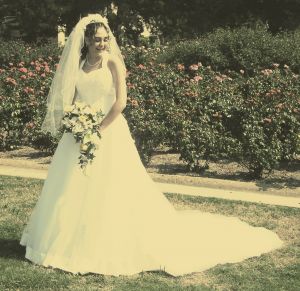 There's something glamorous and special about wearing something vintage. That's why a lot of brides-to-be choose to wear a vintage wedding dress.   The search for the perfect vintage bridal gown can be very demanding and difficult.   They're not your typical ready-to-wear dress that you can easily find in shopping malls or department stores. If you are determined to look especially elegant in a beautiful vintage wedding gown, here are some tips you should definitely have to read:
Online Vintage Shops
Buying from online vintage shops has its pros and cons. Being able to shop online is so easy and convenient. However, be wary of those that do not have written details about the dress; where it came from, when it was made, etc.   It is also important to check and confirm that it is in good condition.
Budget
How much are you willing to spend? Take your budget into consideration when choosing a dress. Spending too much on a dress may risk ruining most of your other wedding details.
Ask Family or Friends
Before heading out to stores, you might want to check with your family or friends first. Ask your grandmother if she still has her wedding dress. Who knows, her dress may be the one you're looking for.
Know the Condition of the Dress
A vintage dress can be fragile so it's very important to check its condition before buying or borrowing them. Check the waistline and shoulder seams, buttons and zipper.
Check for Stains
Make sure that there are no stains on the dress. You might think that having removed is easy, but it really isn't. Not using the right stain remover may change the color of your dress.
Try the Dress On
Try the dress on as carefully as possible. Vintage dresses are delicate especially those that are quite old. You don't want to ruin the dress while trying it on.
Know Where to Buy
Since vintage dress aren't as available as modern-day wedding dresses, you'll want to find them in special stores, like antique shops, consignment shops, online shops or at yard sales.